Easy French Desserts

Delicious, simple, and classically easy french desserts.
If you've always thought French desserts are overly sophisticated and difficult to make, you might be in for a surprise.
While it's true that the Haute Cuisine can be very daunting to any average cook like you and me, we have found plenty of great recipes for easy french desserts.
They taste fabulous and have that sophisticated air that every recipe from the home country of great eating carries.
But our variations of some of the most famous french delights are simple enough for you to make at home. And impress everyone of your guest :-)

Bon Appetit!

This crepe with oranges may be the world's most famous french dessert.
In our classic recipe, we include a garnish of fresh orange and a scoop of creamy vanilla ice cream.
And if you are in for a very special treat, try our award winning Crepes Suzette with Tangerines and Honey, which won the first prize and the title The Official Dessert of the 2009 Citrus Parade.
Mousse o Chocolat, who can resist this? Well, not anyone I know. It's one of the most-loved sweet desserts I know of.

This recipe is as light as air yet packed with satisfying chocolate flavor. And it's the perfect crepe filling, especially when you add fresh raspberries, chocolate sauce and whipped cream!
Strawberry Crepes with Whipped Cream and Strawberry Sauce
This easy french dessert, featuring whipped cream and strawberry sauce, will become one of your favorite fresh strawberry treats.
The fresh, tangy-sweet little red fruits go perfect with the sweet whipped cream, rolled up into one of your delicious basic crepes.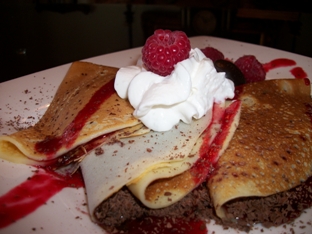 Chocolate and Raspberry Crepes
This simple dessert that calls for just 3 ingredients. Raspberry jam and a silky layer of melted chocolate will make this one of your favorite raspberry desserts.
Quick and easy to make, anyone can do this. But it still looks like a masterpiece!
The recipe for these miniature cherry desserts is based on a French recipe for brandied cherry tarte tatin, which is a pie that is baked upside down in butter, sugar and cherry brandy.
The miniature tartes are a great addition to any potluck party. Finger food at its best :-)
Need some help with your baking? Keiko is a professional patissier and pastry teacher. She'll guide you to make the most amazing pastries in the world. Each cake or dessert comes with a video and detailed pdf instructions with lots of images. It shows how you can make each cake and dessert from start to finish. And if something went wrong, post your cake pictures in the member forum and Chef Keiko will tell you what went wrong and how to fix it.
Test her baking classes and soon you'll bake like a pastry chef yourself.

Return from to more Easy Dessert Recipes
Return to Homepage
I love to Pin - Check out my Pinterest Boards