Puff Pastry Dessert Recipe
Miniature Brandied Cherry Tarts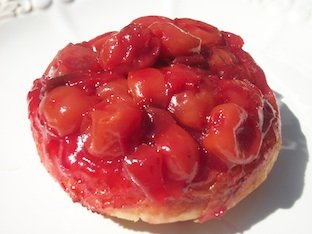 Puff pastry dessert recipes are quick and easy desserts that complement our main dish crepe recipes beautifully.

The recipe for these miniature cherry dessertsis based on a French recipe for brandied cherry tarte tatin, which is a pie that is baked upside down.
This method allows the fruit to simmer gently in a bath of sugar, butter and brandy while the pastry bakes to a golden brown perfection.
Ingredients:
1 can of red tart cherries, drained
½ cup of cherry preserves
1 tbsp of brown sugar
1 tbsp of butter
3 tbsp of kirsch (or cherry brandy)
1 sheet of puff pastry, thawed
Add cherries, preserves, sugar, brandy and butter to a medium saucepan. Bring to a boil and reduce heat. Let simmer for 10 minutes, stirring occasionally, until a sauce forms. Remove from heat.
Preheat oven to 400 degrees. Sprinkle flour lightly across your work surface. Roll out the sheet of puff pastry and if there are seams, press them lightly together. Cut the puff pastry into six 3-inch rounds.
Divide cherries and sauce equally among six 3-inch ramekins. Note: A jumbo muffin pan works equally well. Place one round of puff pastry on top of each ramekin. 
Place ramekins on top of cookie sheet and place inside oven.
Bake for 20 minutes or until juices are bubbling and pastry turns golden brown.
Let cool on a cookie rack for 10-15 minutes. 
Before serving, run knife around the edge of ramekin to release the tart.
Invert on serving platter.
Repeat with remaining tarts and serve immediately.
Yield: 6 servings 


Puff pastry dessert recipes like this one that use made-ahead puff pastry provide a great shortcut to any dessert recipe requiring a crust. It's dependable and serves as a wonderful backdrop to fruit dessert recipes such as this one.
Want a cherry recipe for crepes that includes chocolate? Check out Black Forest Cherry Crepes. 
Return to Easy Appetizer Recipes. 

Return to Home.

I love to Pin - Check out my Pinterest Boards