Crepes Suzette Recipe Featuring
Tangerines and Honey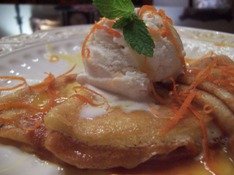 This crepes Suzette recipe was the winner of the 2009 Citrus Dessert Challenge in Orlando, Fla, this recipe was named the Official Dessert of the 2009 Spherion Citrus Parade! Judges included Executive Chef Joel Reynders and Heather McPherson, Food Editor of the Orlando Sentinel.

If you like crepes suzette and enjoy making recipes using honey and tangerines, you'll want to give this award-winning dessert a try. The sweetness of the tangerines and honey is enhanced by lemon juice and orange liqueur. The zest and juice of the tangerines give the sauce a deep orange color that is as beautiful as it is delicious.

Ingredients:
4 tablespoons butter
¼ cup honey
Juice of 6 tangerines, zest from one
1 tablespoon of lemon juice
Extra whole tangerine for garnish (optional)
3 tablespoons of orange liqueur (We use Grand Marnier)

Melt butter in large skillet over medium heat. Stir in the tangerine juice, lemon juice, honey, zest, and liqueur. Stirring constantly, reduce sauce to ⅔ cup.
Very delicately add each crepe to the pan—one at a time—and coat it in the sauce. (We used a fork rather than a spatula for this.) Fold each one in quarters, and arrange three on each plate, repeating until each one has been dipped and plated.

When serving, you may overlap them as we did when we served this recipe to the judges in the Dessert Challenge.

For extra flavor, add a scoop of ice cream in the middle and extra sauce over the top. Tangerine wedges make a beautiful garnish.
Serve immediately.

Yield: 4 servings (3 folded quarters each)

For a humorous photo-essay on the 2009 Dessert Challenge, check out World of Crepes Goes to Orlando!
Return to Crepes Suzette Recipes

Return to Home.

I love to Pin - Check out my Pinterest Boards