Coconut Milk Recipes
Tropical Crepe Batter

Looking for coconut milk recipes? Try this recipe for silky coconut crepes for a sweet taste of the tropics.
Coconut milk is the perfect alternative for Vegans, persons with lactose intolerance or anyone who just doesn't like cow's milk.

It's sweet, thick and soft, therefore it blends especially well with dessert crepes, not so much with savory ones.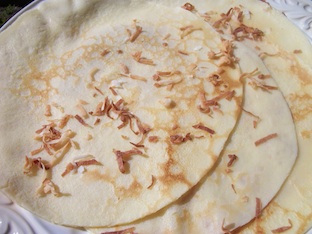 Crepes made with coconut milk in the batter are delicious straight off the crepe pan.
But you can make them extra special by filling them with our coconut cream recipe or mango dessert recipes.
And toasted coconut and macadamia nuts make the perfect topping!
Ingredients:
1½ cups all-purpose flour
4 tablespoons melted butter
1¼ cups of skim milk
½ cup of unsweetened coconut milk
3 eggs
1 tablespoon granulated sugar
1 tablespoon of vanilla
pinch of salt
Yield: 24 6-inch crepes (8" pan) or 18 8-inch crepes (10" pan)

Combine all ingredients into a blender and mix until well-blended. You may also combine them by hand. If combining by hand, mix the eggs and milk separately and combine slowly with the dry ingredients. Mix in the melted butter last.
Important: Refrigerate the batter for at least 30 minutes. This gives the batter the opportunity to rest and fully come together.

How To Make Crepes in 6 Easy Steps. Now that you've made your batter, we highly recommend that you read this detailed list of instructions—from flipping the crepe to storing them until ready to use.
Hint: Use the rest of your coconut milk to make our delicious sweet coconut milk sauce.
Extra Hint: Most of the coconut milk products available in the US are heavily diluted, which means they contain preservatives, thickeners, stabilizers and other additives.
Make sure you only buy 100% pure coconut milk, preferably organic. If you're concerned with the BPA issue, use products packaged in paper cartons. As the shelf life of packaged coconut milk is typically one year, you can buy in bulk if you've found a decent-priced offer.

Return from Coconut Milk Recipes to Crepe Batters.

Return to Homepage
I love to Pin - Check out my Pinterest Boards