Coconut Milk Recipe
Sweet Coconut Milk Sauce is an Easy and Delicious Sauce for Your Dessert Crepes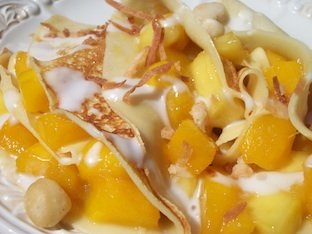 Seeking more recipes with coconut milk? Try this coconut milk recipe as a topping for your favorite dessert crepes.

The recipe for this delicious sweet coconut milk sauce was created by our friend Kroocrew at Edibly Asian.
He tells us that this recipe is inspired by the number one dessert in Thailand and Laos, a sticky rice mango dessert.
We love it on our mango dessert crepes!
Ingredients:
½ tbsp of white sugar
½ can of unsweetened coconut milk
1 tsp of cornstarch
2 tsp of water
Stir together water and cornstarch until combined. Add to coconut milk and sugar in a small saucepan. Bring to a simmer and let cook, stirring occasionally, for 2 minutes until thickened. Do not boil or sauce will separate.
Yield: ½ cup of sauce
Return to Sauce Recipes. 

Return to Home.
I love to Pin - Check out my Pinterest Boards