Mango Dessert Recipes
Dessert Crepes with Coconut Milk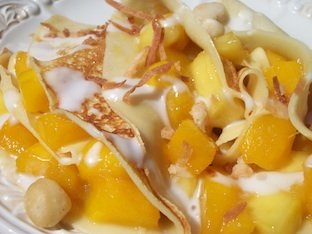 Enjoy mango dessert recipes? I love mangoes, they're one of the most delicious (and healthy) exotic fruits I know. Whether you eat them green and tart or yellow ripe and sweet, they're always a delight.
By the way if you ever feel like having a special mango treat, this is my favorite way to eat them. Greenish (not too green though), with a sprinkle of lemon juice, salt and pepper. Yummy!
Anyhow for our Coconut Crepes Filled with Mangoes and Drizzled with Sweet Coconut Milk Sauce you need to use them as yellow, ripe and sweet as you can get that delicious exotic fruit.
Our mango dessert crepes are made with a special coconut crepe batter recipe and topped with a delicious sweet cream sauce.
With their sweet, distinctively aromatic flavor, mangoes make a great crepe filling. Put the filling inside our silky coconut crepes and drizzle with our easy sweet coconut milk sauce.

Eating them will transport you thousands of miles away to a tropical paradise with beaches, palm trees and a soft warm sea breeze. What better way to enjoy these long summer nights?

Ingredients
2 ripe mangoes, peeled and coarsely chopped
2 tbsp of butter
1 tbsp of brown sugar
3 tbsp of orange juice
toasted coconut
toasted macadamia nuts
sweet coconut milk sauce
Make crepes according to directions in How to Make Crepes. Cover to keep warm and set aside. If you made your crepes ahead of time, wrap in tin foil and reheat in a 325-degree oven for 10 minutes or until warm.
Melt butter in a medium skillet. Add brown sugar and stir together until sugar dissolves. Add orange juice and mangoes and cook for 5 minutes until fruit is tender and a sauce forms. Keep warm.
Assemble crepes: Lay first crepe on a serving dish. Spoon one-quarter of fruit mixture across half of crepe. Fold in half and then in quarters. Drizzle with 2 tbsp of coconut milk sauce. Top with toasted coconut and macadamia nuts and serve immediately.
Yield: 4 servings (1 crepe each)

Return from Mango Dessert Recipes to More Dessert Crepes.

Return to Homepage
I love to Pin - Check out my Pinterest Boards