Cinco de Mayo Dessert Recipes for Crepesmango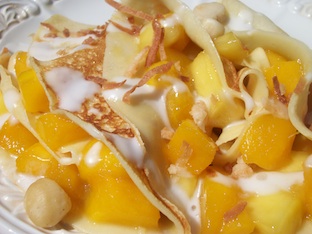 Seeking Cinco de Mayo Dessert Recipes? No bake desserts? Try one of our popular tropical crepe recipes!

Crepes, known as crepas,have been served in Mexico since a brief French occupation in the 1860's. They're still served there today at home, in restaurants or in outdoor street markets. Making them is a great way to celebrate the diverse culture of our southern neighbor.
According to Cristina, author of Mexico Cooks:
"Crepes are most often served as desserts. When they're served as desserts, they're filled with Nutella and cream cheese, with fruit cooked in syrup, and as Crepes Suzette." 
If crepes are on your list for Cinco De Mayo recipes, try serving any one of these easy recipes. In addition to our Mango Dessert Crepes, these fruit-filled crepes are a great way to usher in the bounty of summer. 

Our Coconut Cream Crepes are as delicious as coconut pie but without the hassle of a crust.

Garnish with toasted coconut and your favorite fruit pureé! 
Enjoy pineapple desserts? Try our easy Grilled Pineapple Crepes.

You'll love the delicious rum raisin sauce that's drizzled on top. 
If there's one pudding recipe that's meant to be folded inside a crepe, it has to be this one.

Try our Banana Pudding Recipe for Crepes for an updated twist on a southern classic. 
No dessert crepe menu would be complete without a strawberry crepe recipe!

For an easy and sure-fire family pleaser, try our Whipped Cream and Strawberry Crepes, one of our most popular recipes. 
Want more Cinco De Mayo Recipes for crepes? For more crepe recipes inspired by the flavors of Mexico, try Taco Crepes or Mexican Crepes (Crepas de Pollo en Salsa Verde.)
And for a tasty and easy side dish, check out Mango Salsa Recipes.
Return to Easy Dessert Recipes.
I love to Pin - Check out my Pinterest Boards