Cast Iron Grill Pan
Best Cast Iron Skillets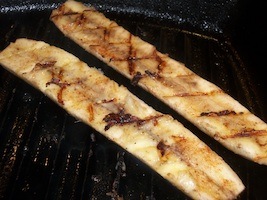 Seeking a cast iron grill pan? Read along to learn more about the best cast iron skillets for your indoor grill recipes. 

Cast iron cookware is an indispensable tool in any serious cook's kitchen. Especially if you enjoy the delicious flavor of cast iron skillet recipes. 

No matter what the weather outside, you can grill meats, fish, chicken or even dessert fillings such as bananas any day of the year. 

At World of Crepes, we use our cast iron grill pan for both crepe fillings and grilled crepe recipes:
In fact, any of our Easy Grill Recipes would work very well on a cast iron pan.
The deep ridges in the pan quickly and effortlessly sear your food on a high temperature with no fat (or very little) and impart those tasty grill marks given by outdoor grills.
Using Your Pan. This type of pan heats very efficiently, so please exercise care as you use it. Remember that the handle is made of the same material as the pan and can easily burn you so you will need to use a potholder when handling.
To use your pan, simply place it on a medium high burner. While you do not need to grease your pan, I recommend placing a little oil on your food before you grill it. Let your food cook for a few minutes (3-4 minutes or to desired doneness) before you try to turn it. When it is ready, it will release easily from the grill pan without sticking.
Seasoning Cast Iron Skillet. Many of today's pans are pre-seasoned before you buy them, but if you happen to purchase one that has not, simply follow the directions on this link.
Cast Iron Skillet Care. Your fry pan may be cleaned easily by simply wiping it with a paper towel moistened with a little oil. For more tips, see this link.
Cast iron grill pans are available in a variety of sizes, shapes and prices. Below are links to purchase pans from some of our favorite makers, in order of price, available from Amazon, our affiliate partner. 

Lodge Round Cast Iron Grill Pan.
Lodge Logic offers affordably-priced cookware with the same unparalleled quality, craftsmanship, and superior value characteristic of Lodge—now with a seasoned finish that's ready to use right out of the box.
Le Creuset Square Grill Pan
Le Creuset grill pans are sand-cast, painstakingly polished and finished by hand, then sprayed with two coats of enamel and fired twice. Le Creuset's heavyweight, cast-iron grill pan lets you enjoy rustic outdoor flavor right on your stovetop.
Staub Enameled Cast Iron Grill Pans.
The perfect grill pan for preparing meat, poultry, fish and vegetables. Durable cast iron pan retains and distributes heat evenly and effectively; plus it's ready to use—no seasoning required. 

About our affiliates: World of Crepes is honored to partner with select online merchants offering a variety of products to enhance your cooking and dining experience. Each item has been carefully chosen for its quality, usefulness, and value. These merchants pay us a small commission on your purchase, which makes it possible for us to maintain World of Crepes. Thank you for your support. 

Return to Crepe Pans. 

Return to Home.
I love to Pin - Check out my Pinterest Boards