Cast Iron Skillet Recipes
Banana Dessert Recipes
Seeking cast iron skillet recipes? Try our grilled banana recipe for crepes. With its delicious caramelized bananas and smooth nutella, this dessert will quickly become one of your favorite indoor grill recipes. 

Cast iron skillet recipes are delicious and easy to prepare.
If you enjoy banana dessert recipes, you'll love this delectable dessert crepe filling recipe.
I made them using my cast iron grill pan, which is a perfect way to get the outdoor flavor of grilling without the fuss.
Ingredients:
4 bananas
¼ cup of canola oil
1 tbsp of cinnamon sugar
1 cup of Nutella or hazelnut chocolate spread
whipped cream, for garnish
toffee chips, for garnish
First, make crepes according to directions in How to Make Crepes. Cover and keep warm. If you made your crepes ahead of time, wrap them in foil and reheat in a 325-degree oven for about 10 minutes or until warmed.
Preheat grill pan to medium heat. Peel bananas and slice in half lengthwise. Using a pastry brush, coat cut side with canola oil and then sprinkle with cinnamon sugar. 
Grill Bananas. Place bananas on grill, cut edges down. As first side cooks, coat the other side of each slice with more oil and cinnamon sugar.
Grill for 3-4 minutes until visible grill marks appear.
Turn bananas over and grill the remaining side for 3 more minutes. Remove from heat.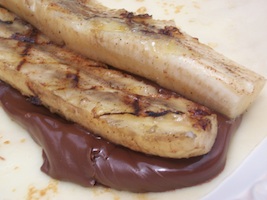 Assemble crepes: Lay first crepe across serving platter. Spread 2 tablespoons of nutella across the middle of the crepe. Top with 2 slices of banana. Roll up and top with whipped cream and sprinkle with toffee chips.
Repeat with remaining crepes and serve immediately.
Yield: 4 servings (1 crepe each) 
Return from Cast Iron Skillet Recipes to Easy Grill Recipes. 
I love to Pin - Check out my Pinterest Boards