Steak Diane Recipe for Crepes
A Hearty Crepe Filling Recipe with Steak and a Sauce of Brandy, Mustard, Mushrooms and Shallots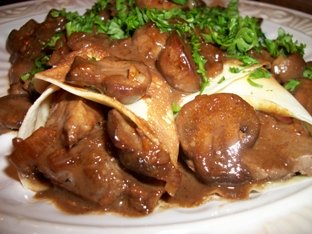 Our Steak Diane Recipe for Crepes originated when my neighbor George, a bear of a man with an appetite to match, dropped off a steak at our house. The steak was gorgeous and huge, a true porterhouse with a filet on one side and a strip steak down the other. In jest, he then demanded a "man" crepe. Game, set, match.

He did indeed receive a "man" crepe but fittingly, the final dish was crowned with a savory pan sauce named for a woman.
"Man" or "woman" crepe?
Whatever you call it, this Steak Diane Recipe for Crepes will please both sexes. 

Ingredients:
1 porterhouse steak, 18 oz. (or 4 filets, as in the traditional recipe)
½ teaspoon of salt
¼ teaspoon of black pepper
2 tablespoons of butter
1 shallot, minced
1 cup white button mushrooms, washed and sliced
1 teaspoon of minced garlic
¼ cup of brandy
2 teaspoons of Dijon mustard
¼ cup of heavy cream
½ cup of beef broth
2 teaspoons of Worcestershire sauce
½ cup of fresh parsley
4 basic crepes (8-inches each)*
Sprinkle both sides of the steak with salt and pepper. Melt the butter over medium heat in a grill pan. Add the steak and cook for 2 minutes on each side (for a medium well steak; less for rare). Remove steak to a separate plate and cover to keep warm.
Meanwhile, if you made your crepes ahead of time, wrap them in foil and reheat in a 325-degree oven for about 10 minutes or until warmed.
Add the shallots and mushrooms to the same pan and stir together. Cook for 3 minutes, until mushrooms and shallots begin to caramelize. Add garlic, stirring, and cook for another minute. Add brandy and stir, followed by the mustard and cream.
The classic recipe calls for igniting the brandy, which is optional. If you choose to do so, remove the pan from the heat before you ignite it. When the flames die down, add the mustard and cream and stir together until combined.
Cook brandy, mustard and cream for 1 minute. Next, add the broth, still stirring, and cook for another minute. Add the Worcestershire sauce and combine. Turn the burner to low.
Slice the meat into thin strips and return to the pan. Stir to coat the meat with the sauce.
Assemble the crepes: Lay each crepe flat on the serving dish. Fill with 3 slices of steak and ¼ cup of sauce and mushrooms. Repeat with remaining crepes. Garnish with parsley and serve immediately.
Yield: 4 servings (1 crepe roll each)
Note: This is a very hearty recipe and we found that one crepe person, when combined with a simple side dish such as potatoes or broccoli spears, was quite filling.
* If you use four filets, you will easily be able to fill four crepes with steak to spare. 
Return to Main Dish Crepe Recipes.
I love to Pin - Check out my Pinterest Boards