Peach Melba Recipe
Grilled Peach Recipe for Crepes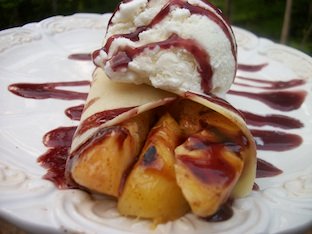 Seeking fresh peach recipes? You'll love our peach melba recipe for crepes with our luscious raspberry sauce recipe.
This fresh peach recipe is based on the classic dessert created by the French chef Auguste Escoffier in 1892 in honor of the Australian soprano Dame Nellie Melba.
You'll be hitting the high notes after one bite of our version, which includes warm crepes, grilled peaches, and vanilla ice cream! 

Ingredients:
First, make crepes according to directions in How to Make Crepes. Cover and keep warm. If you made your crepes ahead of time, wrap them in foil and reheat in a 325-degree oven for about 10 minutes or until warmed.
Preheat grill or grill pan to medium heat. Cut peeled peaches in half and remove stone. Brush cut edge of peaches with canola oil and sprinkle with cinnamon sugar. Place cut edges on grill. As first side cooks, coat the other side of each peach with more oil. Grill for 3-4 minutes until visible grill marks appear. Turn peaches over and grill the remaining side for 3 more minutes. Remove from heat and sprinkle with remaining cinnamon sugar. Slice each halve into 4 slices for a total of 32 peach slices.
Assemble crepes: Lay first crepe across serving platter. Spoon 8 slices of peach inside crepe. Roll up and top with one scoop of vanilla ice cream. Drizzle with raspberry sauce. Repeat with remaining crepes and serve immediately.
Yield: 4 servings (1 crepe each)
Return to Easy Grill Recipes. 

Return to Home. 

I love to Pin - Check out my Pinterest Boards