Easy Christmas Desserts
Quick Cherry Cream Cheese Crepes and More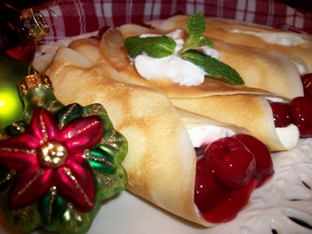 Need more easy Christmas desserts? With its festive red color and delicious flavor, this mini dessert recipe featuring crepes is a quick and easy dessert that will be the centerpiece of your holiday dessert buffet.

It's a no bake dessert recipe that's perfect for a dessert party or as a stunning finale to your main dish.
Want to eat lighter this holiday? If you use reduced-fat cream cheese in this recipe, you can reduce the calories in each serving to just 260, or half the calories in a full-size dessert crepe!
Warning: There won't be any left for Santa! 
Ingredients: 

1 can of cherry pie filling (21 oz.)
2 blocks of cream cheese, softened (8 ounces each)
½ cup of sugar
2 tablespoons of sour cream
2 tsp of vanilla
Whipped cream and mint for garnish
Prepare dessert crepes in a 6-inch pan (this will yield 4-inch crepes) or simply trim your pre-made 8-inch crepes to 4 inches. Crepes may be served slightly warm or chilled.
Combine cream cheese, sour cream, sugar and vanilla in a mixing bowl. Beat on medium speed with an electric mixer (or by hand) until the ingredients are combined and the mixture is creamy.
Assemble crepes: Lay each crepe on a flat working surface. Spread crepe with 2 tablespoons of the sour cream mixture. Follow with two tablespoons of pie filling. Roll up and transfer very carefully (a spatula works nicely) to the serving tray. Repeat with remaining crepes. Chill until ready to serve (up to 3 hours). Right before serving, garnish with whipped cream and a sprig of mint.
Yield: 8 servings (1 crepe roll each) 


Want More Easy Christmas Desserts? Try Our Miniature Chocolate Raspberry Crepes. 

Want More Chocolate Desserts? Try our Miniature Chocolate Banana Crepes. 

Want a Sweet and Savory Christmas Treat? Try Our Pear, Raspberry and Brie Appetizer Crepes. 
I love to Pin - Check out my Pinterest Boards