Chocolate Crepes with Bananas and Nutella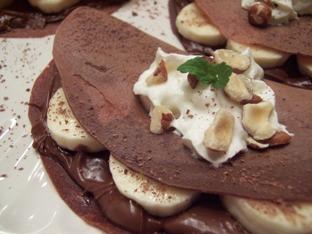 Enjoy our banana nutella crepes? Try this miniature crepe recipe that starts with a chocolate crepe batter. These crepes might be small but they pack a double punch of chocolate with a thick layer of nutella as the "glue." This recipe is one of the easiest appetizers you'll ever make. 

Ingredients
10 4-inch Chocolate Crepes
1½ cups of Nutella
5 bananas, sliced
Whipped cream
Toasted hazelnut pieces and cocoa powder for garnish
Use a 6-inch skillet to make your crepes, which will yield 4-inch crepes. You may make your crepes the day before, if you wish.
To assemble crepes: Wait to assemble these crepes until it is time to serve. Lay the first crepe on a flat working surface. Spread 2 tablespoons of Nutella on each crepe. Lay 6-8 banana slices on top and fold over as shown in the picture. Repeat with remaining crepes.
Right before serving, add a small dollop of whipped cream and top with hazelnut pieces. Dust with cocoa powder. Serve immediately.
Yield: 10 servings (1 crepe roll each) 

Return to Appetizer Crepes.

Return to Home.
I love to Pin - Check out my Pinterest Boards