Tres Leches Recipe
Sweetened Condensed Milk Recipe for Crepes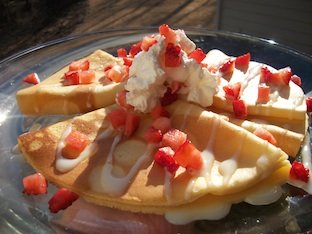 This tres leches recipe for crepes topped with diced strawberries is a modern variation of the traditional sweetened condensed milk recipes used in Latin America.
It's the perfect dessert for a Valentine's day. I'm sure, it'll make your sweetheart's tummy swoon with joy. And you can reap the benefits of this pleasure later on :-)
If you enjoy traditional tres leches (or three milks) recipes, you'll love this crepe!
It combines the sweet and creamy texture of the condensed milk, with the fresh, sweet and tangy flavor of sun-ripened strawberries. Once you have tried this crepe, you'll never want to eat another dessert in your life.
It's the perfect treat for any romantic, sensual occasion, like an anniversary or Valentine's day. But you could also use it as a special dessert for your family. Just don't spoil them too much, or they won't ever eat "normal" food again.

Instead of the expected cake, the tres leches recipe has a modern and unexpected twist, and they take only minutes to whip up.
Top them with prepared sweetened condensed milk and diced strawberries for special flair!
And make enough of those little delights, as I'm sure, everyone wants to have a second serve. At least my hubby does!


Ingredients:
1½ cups all-purpose flour
4 tablespoons melted butter
1 can of evaporated milk, 12 oz.
3 eggs
1 tablespoon granulated sugar
pinch of salt
1 tablespoon of vanilla
1 cup of sweetened condensed milk
Whipped cream
1 cup of diced strawberries
Combine first seven ingredients into a blender and mix until well-blended. You may also combine them by hand. If combining by hand, mix the eggs and milk separately and combine slowly with the dry ingredients. Mix in the melted butter last. Important: Refrigerate the batter for at least 30 minutes. This gives the batter the opportunity to rest and fully come together.
How To Make Crepes in 6 Easy Steps. Now that you've made your batter, we highly recommend that you read this detailed list of instructions—from flipping the crepe to storing them until ready to use.
Assemble crepes: Fold first three crepes into quarters and arrange in a circle on serving dish. Drizzle with 2 tbsp of sweetened condensed milk. Top with a dollop of whipped cream and 2 tbsp of diced fresh strawberries. Repeat with remaining crepes and serve immediately.
Or, for another variation, fill the crepes with our coconut cream recipe.
Return to Easy Dessert Recipes.
Return to Homepage
I love to Pin - Check out my Pinterest Boards