Boston Cream Pie Crepes
Miniature Dessert Crepes Filled with Vanilla Pastry Cream and Drizzled with Chocolate Sauce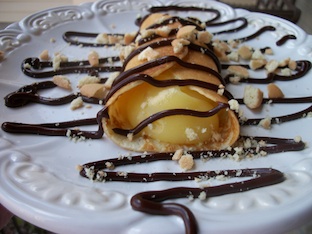 Our boston cream pie crepes make the perfect easy dessert recipe. Kids and adults alike will love the spoon-licking flavor of this luscious crepe filling recipe.
An older child can help you make the crepe filling, while younger children will enjoy helping you fill the crepes and drizzle the chocolate.
We use miniature crepes for this recipe, because they look so cute and they're much easier to eat. Especially smaller kids tend to make a real mess with the big crepes. Not with these!
And I can guarantee you the miniature desserts will make a lasting impression at any party with adults as well.

When you make simple dessert recipes like these, children of all ages will happily help you do the dishes!
Ingredients:
1¼ cups of skim milk
¼ cup of sugar
3 egg yolks
⅛ cup of all-purpose flour
2 tbsp of cornstarch
1 tsp of vanilla extract
Chocolate sauce recipe
6 (6-inch) dessert crepes
vanilla wafers, crumbled, for garnish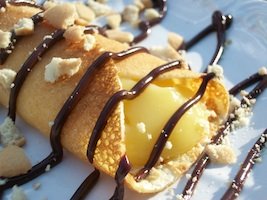 Heat milk in a small saucepan until steaming. Do not boil. Meanwhile, whisk the yolks, sugar, flour and cornstarch together until thoroughly combined.
When milk is heated and is steaming, add half of it to egg-flour mixture and whisk until milk is completely incorporated. Pour the mixture back into the saucepan and combine with the remaining milk.
Cook, whisking constantly, for 1-2 minutes or until mixture is very thick. Remove the pan from heat and stir in the vanilla. Cove with plastic wrap to keep a skin from forming. Chill for at least one hour before filling crepes.
Side Note: We love to make the pudding filling ourselves. Nothing beats that, but if you need a quicker version, you can also substitute a 4.2 oz package of vanilla pudding mix. Follow the directions on the package.
Assemble crepes:
Lay first crepe on a flat serving dish. Spoon 3-4 tablespoons of pastry cream inside the crepe. Roll up and drizzle with chocolate sauce. Garnish with crumbled wafers. Repeat with remaining crepes. You may serve immediately or chill for later.
Yield: 6 servings (1 crepe each)
Extra Tip: If you want you can also use normal-sized crepes for this recipe. But then you should double the amount of the filling, otherwise you end up with too little filling.


Return from Boston Cream Pie Crepes to Easy Recipes for Kids.

Return Easy Dessert Recipes.

Homepage
I love to Pin - Check out my Pinterest Boards