Chocolate Sauce Recipe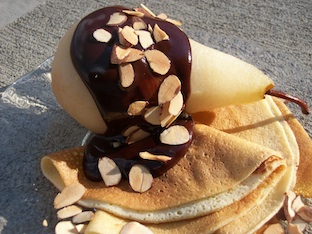 Our chocolate sauce recipe is the perfect topping for dessert crepes, especially those we've included on this website.
In fact, some people don't even consider a dish to be a true dessert unless it contains a little chocolate!
Of course you could also buy ready-made chocolate sauce, but this one tastes so much better. And you know what's in it. No preservatives, artificial sweeteners and other stuff that shouldn't be there.
Make sure you use only high quality chocolate morsels, because they from the basis of this yummy recipe.

Ingredients:
8 oz. of semisweet chocolate morsels
3 tablespoons of unsalted butter
¾ cup heavy cream
1 tablespoon of orange liqueur or dark rum (optional)


Directions:
Fill the bottom of a double-boiler with water. Bring to a boil. Place morsels and butter in top bowl. Stir frequently. When mixture is melted, stir in heavy cream with wire whisk. Add optional liqueur. Blend with whip.

If you wish to serve the sauce warm, such as in our recipe for poached pears over crepes, serve immediately by spooning it over the crepe.
If you wish to drizzle the sauce over a recipe such as strawberry cream cheese crepes, chill the sauce in the refrigerator for about 30 minutes. After chilling, place sauce in a re-sealable plastic bag and snip the corner. Squeeze from the end, decorating crepes as you wish. Zigzag or whirl? It's up to you!
This recipe also re-heats very easily. Simply place in a microwaveable bowl and re-heat for 30 seconds.
Sidenote: If you don't want to use liqueur or rum for any reason, you either just leave it out or substitute it with orange flavor. The orange or rum flavor gives this chocolate sauce recipe the special "pizzazz".

Return to more Sauce Recipes

Return to Homepage
I love to Pin - Check out my Pinterest Boards