Quick Easy Vegetarian Recipes
Sautéed Eggplant, Zucchini and Mushrooms Rolled up in Warm Buckwheat Crepes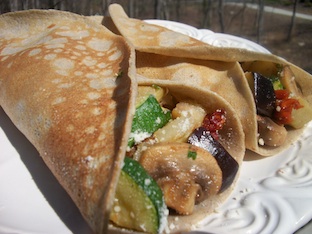 Seeking quick easy vegetarian recipes? Easy eggplant recipes? You'll want to try using crepes for your vegetable main dish recipes.

Everyone knows that the best vegetarian recipes make great crepe filling recipes. Crepes make delicious and healthy "wrappers" for a wide variety of vegetable recipes. 
And nothing tastes better in our buckwheat crepes than this tasty veggie recipe featuring garlic and Parmesan cheese.
Much heartier than a vegetable side dish, this recipe will quickly become one of your favorite meatless main dishes!
Ingredients:
2 tbsp of olive oil
1 cup of onion, finely chopped
1 cup of diced eggplant (or 1 small)
1 cup of diced zucchini (or 1 medium)
2 cloves of garlic, divided
2 cups of sliced white mushrooms
½ cup of dry white wine
¼ cup of sun-dried tomatoes packed in oil, drained and julienned
⅓ cup of grated Parmesan cheese
2 tbsp of chopped fresh parsley
salt and pepper to taste
First, make crepes, following the easy directions in How to Make Crepes.If you made your crepes ahead of time, wrap them in foil and reheat in a 325-degree oven for about 10 minutes or until warmed.

Heat 1 tbsp of oil in a large skillet. Add onion and sprinkle with salt and pepper. Sauté until onions have softened, about 5 minutes. Add eggplant and zucchini. Sauté until eggplant and zucchini are tender, about 5 minutes more.
Place eggplant-zucchini-onion-mixture in a bowl and cover to keep warm. Using the same skillet, melt remaining olive oil. Add mushrooms, sprinkle with salt and pepper, and cook until they are golden. Next, add garlic and cook for an additional minute.
Deglaze pan with wine. Reduce heat to low and simmer mushrooms in wine until it is nearly absorbed. Add sun-dried tomatoes and cook until softened. Next, add eggplant-zucchini-onion mixture back to skillet and stir until re-heated.
Assemble the crepes: Lay each crepe flat on the serving dish. Fill with ½ cup of filling and sprinkle with Parmesan cheese. Roll up. Repeat with remaining crepes. Garnish with parsley and serve immediately.
Yield: 4 servings (1 crepe roll each)
Want more vegetarian recipes for crepes with eggplant? Try our Easy Eggplant Recipes in yummy spinach crepes! 
Return to Easy Vegetable Recipes. 
I love to Pin - Check out my Pinterest Boards