Low Carb Apple Dessert

Best Recipe for Crepes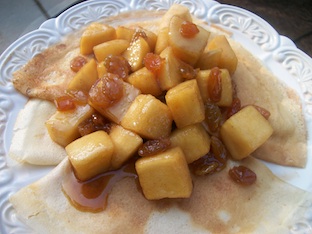 Try this easy low carb apple dessert with raisins. It's heavenly, even more so when poured over our buttermilk spice crepes.
I'm sure you'll love this dessert. Go ahead and indulge!

If you are on a low carb diet, this doesn't mean you need to go without dessert. For all of you with a sweet tooth, here's a fantastic recipe featuring apples and buttermilk crepes.
You can even get away with the excuse, that it's healthy! You know, an apple a day keeps the doctor away... :-)
This low carb apple dessert is a tasty alternative to apple pies or cakes which are typically high in carbohydrates. The spiced buttermilk crepes are the perfect foundation for the not-too-sweet filling of apples and raisins.
And we promise....you won't miss the extra sugar or the carbs!

Ingredients for Apple and Raisin Topping:
4 firm sweet apples such as Fuji or Gala, peeled, cored and diced into ½-inch pieces
4 tbsp of butter
2 tbsp of brown sugar
½ tsp of ground cinnamon
1 cup of apple cider or apple juice, divided
½ cup of golden raisins
Ingredients for Buttermilk Spice Crepes
¼ tsp of cinnamon
⅛ tsp of ground cloves
⅛ tsp of ground ginger
First, make crepes, adding cinnamon, cloves and ginger to our basic buttermilk crepe batter. Cover crepes to keep warm. If you made your crepes ahead of time, remove them from the refrigerator or freezer, wrap them in foil and reheat in a 325-degree oven for about 10 minutes or until warmed.
Melt butter in large skillet over medium high heat. Add brown sugar and stir together until combined. Add apples, lemon juice, cinnamon and ½ cup of cider. Reduce heat to a simmer and let cook until apples pierce easily with a fork but are not too mushy.
While apples are cooking, place raisins in a microwave-safe bowl and cover with remaining cider. Microwave for 30 seconds. Drain raisins and add to apple mixture. Stir together and let cook for another minute. Remove from heat.
Assemble crepes: Fold crepes into quarters. Put two crepes on each plate. Divide apple-raisin mixture equally among the crepes. Serve immediately.
Yield: 4 servings (2 crepes each)
Want more raisin recipes? Try our Grilled Pineapple Recipe for crepes featuring our easy Rum Raisin Sauce.

Return to Easy Dessert Recipes.
I love to Pin - Check out my Pinterest Boards