Fourth of July Desserts
Homemade Ice Cream Sandwich Recipe for Crepes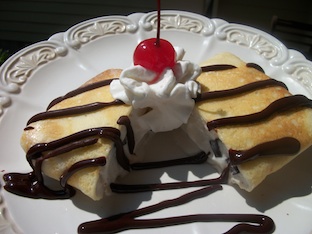 Seeking make-ahead Fourth of July desserts? Do you like recipes with chocolate chips? Try this easy ice cream sandwich recipe using crepes!

This recipe was created in honor of my friend Jen, who makes the world's best chocolate chip cookies.
You can easily make this recipe ahead of time and pop a batch into the freezer. After your 4th of July cookout, simply pull them out, smother each one with warm chocolate sauce, and presto!
Dessert is served! 


Ingredients:
1 carton of chocolate chip ice cream, softened
Whipped cream, optional for garnish
Maraschino cherries, optional for garnish
Crepes that you've made ahead and refrigerated or frozen work great for this recipe. If you haven't made them ahead of time, first go ahead and make your crepes. Be sure and let them cool for a few minutes before assembling crepes.
Assemble crepes: Lay first crepe flat across a piece of plastic wrap or tin foil. Top with 1 large scoop of ice cream and using your hands, shape into a small square. Fold sides over crepe, burrito style. Wrap up in plastic wrap. Repeat with remaining crepes and place into freezer for at least one hour, or overnight.
Before serving, unwrap from plastic wrap and top with warm chocolate sauce, whipped cream and a cherry. Serve immediately.
Yield: 8 servings (1 sandwich each)
Note: If serving to children, you can leave off the toppings and let them eat it by hand. It's an easy and fuss-free way to serve ice cream to kids!
Return to Fourth of July Recipes.
I love to Pin - Check out my Pinterest Boards