Creative Kids Recipes
Chocolate and Vanilla Swirl Recipe for Crepes
Our No Bake Desserts are the perfect creative kids recipes. This one does not only taste good, it's a lot of fun to make and watch !

You and your child will love to cook and our chocolate and vanilla swirl recipe for crepes.

Chocolate desserts are certain to please every member of the family.
Making this recipe for crepes will also become one of your family's favorite magic tricks.
Your kids will love watching their swirls disappear only to show up again after the crepe is flipped!

Ingredients:
How to Make Crepes:
Mix crepe batters according to the recipes. Refrigerate for at least 30 minutes and up to 2 hours.
Note: These next steps are recommended for children aged at least ten and under the strict supervision of an adult. Younger children will enjoy watching you make the crepes and decorate them.
Lightly grease and heat crepe pan. Meanwhile, dip one ¼ measuring cup into each batter and fill the measuring cup about ¾ full.
Once crepe pan is hot, remove it from the burner and let cool for about 20 steps. It is very important that the pan cool slightly before you pour the batter or the swirls will cook too quickly.
Step 1:
Tilting your pan, pour the first measuring cup of batter around your pan in a swirl.
Follow with the second cup of batter, filling in the holes and continuing to swirl until the bottom of the pan is completely covered.

Make sure there are no holes left and return the pan to the burner.
Step 2:
This step is easy.
As your crepe cooks, watch the swirls "magically" disappear!
---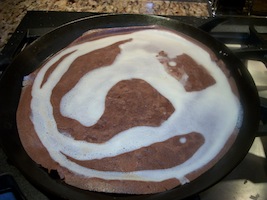 Step 3:
After 1-2 minutes, after the edges turn crisp, and the crepe pulls away from the sides of the pan, flip the crepe.
Abracadabra!
Your beautiful swirls have magically re-appeared!

Repeat with remaining crepe batter. Be sure to let the pan cool slightly between each crepe.
Decorate your finished crepes with a scoop of your favorite ice cream and with a drizzle of our chocolate sauce recipe.
Now, watch them disappear!
Yield: 12-14 swirled crepes


Return to more Creative Kids Recipes
I love to Pin - Check out my Pinterest Boards