Breakfast Brunch Recipes
A Healthier Alternative to Cinnamon Buns Using Crepes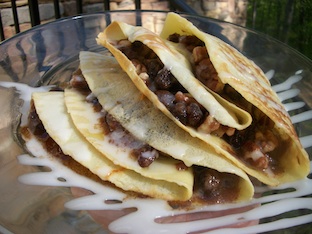 Enjoy cinnamon bun recipes? You'll love our breakfast brunch recipes for cinnamon and pecan breakfast crepes. 

For a healthier alternative to those calorie-laden cinnamon rolls, try our cinnamon and pecan breakfast crepe recipe.
No need to wait for yeast to rise! These yummy crepes take only minutes to prepare but watch them disappear in seconds!
Ingredients:
1 stick of butter, melted
2 tbsp of brown sugar
¼ cup of granulated sugar
1 tbsp of ground cinnamon
1 cup of chopped pecans
1 cup of raisins
1 cup of confectioner's sugar
1-2 tbsp of milk
Preheat oven to 350 degrees. Line a baking sheet with tin foil. In a medium bowl, mix together butter, cinnamon, granulated sugar, and brown sugar. 
Step 1:
Lay first crepe flat on work surface.
Spread with 2-3 tbsp of cinnamon-sugar mixture.
Sprinkle with 1 tbsp of nuts and 1 tbsp of raisins. 

Step 2:
Fold in half and then again in quarters. Lay crepe on the baking sheet.
Repeat with remaining crepes.
Bake for 10-12 minutes or until crepes are warmed and slightly crispy. 
Meanwhile, make glaze by combining milk and confectioner's sugar until smooth. After you remove crepes from oven, drizzle with 1 tbsp of glaze while still warm. Serve immediately.
Yield: 8 servings (1 crepe each)
Want more raisin recipes? Try our Low Carb Apple Dessert for crepes featuring apples and raisins over spiced buttermilk crepes.
I love to Pin - Check out my Pinterest Boards