Vegetarian Main Dish Recipes
Fresh Asparagus Recipes for Crepes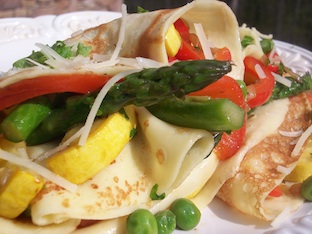 Seeking vegetarian main dish recipes? if you like pasta primavera recipes, you'll love this meatless main dish recipe for crepes. 

Do you love fresh asparagus recipes? How about yellow squash recipes?
Serve them together in this tasty and colorful veggie crepe.
In this recipe, there's no heavy sauce, allowing the flavors of these fresh vegetables to take center stage. 


Ingredients:
1 tbsp of butter
1 tbsp of vegetable oil
1 shallot, chopped
1 clove of garlic, minced
1 lb. asparagus spears, cut into 1-inch pieces
1 medium yellow squash, sliced and quartered
1 medium red bell pepper, seeded and julienned
½ cup of vegetable broth
⅓ cup of green peas, frozen
½ cup of shredded parmesan cheese
salt and pepper to taste
¼ cup of chopped fresh parsley

First, make crepes and cover to keep warm. If you made your crepes ahead of time, wrap them in foil and reheat in a 325-degree oven for about 10 minutes or until warmed.
Melt butter in a large skillet over medium heat. Add shallots and sauté until transparent and softened, about 2 minutes. Add garlic and cook for an additional minute, stirring constantly.
Add oil, asparagus, squash and pepper. Sprinkle with salt and pepper. Sauté just until squash and pepper have softened and asparagus is crisp-tender, about 4-5 minutes. Deglaze pan with vegetable broth. Add peas and stir together until liquid is absorbed and peas are heated through. Remove from heat and add parsley, stirring to combine.
Assemble crepes: Lay first crepe across serving platter. Spoon ⅓ cup of vegetables across half the crepe. You may roll in half or in quarters as pictured. Dust crepe with 1 tbsp of parmesan cheese. Repeat with remaining crepes and serve immediately.
Yield: 6 servings (1 crepe each)
Return to Easy Vegetable Recipes. 

Return to Home.

I love to Pin - Check out my Pinterest Boards