Strawberry Dessert Recipes
Strawberry Mousse Recipe for Crepes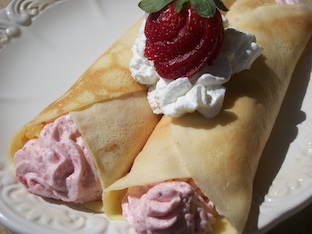 Enjoy strawberry dessert recipes? Try this strawberry mousse recipe for crepes. This light and creamy crepe filling recipe is another one of our easy no bake dessert recipes.

Everyone loves strawberry treats.
Especially during fresh strawberry season! 
There's no better way to celebrate this time of year than to make this strawberry crepe recipe. 
Make it for Easter or any other time when you're craving the incomparable flavor of fresh, sweet strawberries.
Ingredients:
1 envelope of plain gelatin
¼ cup of cold water
1 tsp of strawberry or raspberry extract or liqueur
2 drops of red food covering
2 cups of washed (stems removed) and sliced fresh strawberries
½ cup of granulated sugar, divided
1 cup of whipping cream
Extra whole berries and whipped cream for garnish
Add water to gelatin in small saucepan over low heat. Stir until gelatin is dissolved (about 1 minute).
Pour strawberries, gelatin-water mixture, ¼ cup of the sugar, extract and food coloring into a blender. Pulse on puree until berries are incorporated into the mixture. Pour into a medium bowl and chill for one hour.
Whip cream and remaining sugar on low until sugar is absorbed. Raise speed to high and whip until soft peaks form. Fold whipped cream into strawberry mixture and chill for 1 hour to set.
Assemble crepes: Lay first crepe on a flat serving dish. Spoon or pipe ¾ cup of mousse across the middle and roll up. Repeat with remaining crepes. You may chill these crepes for up to 6 hours before serving or serve immediately. Garnish with whipped cream and a sliced strawberry before serving.
Return to Strawberry Crepes. 

Return to Home.

I love to Pin - Check out my Pinterest Boards