Simple Dessert Recipes

Spiced Peach Recipe for Crepes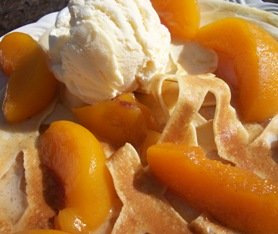 Enjoy simple dessert recipes? Try our spectacular spiced peach recipe for crepes. It's not only delicious, but also very easy to prepare.

Can't wait for fresh peach season? No worries.
Our sweet treat, which is another one of our no bake dessert recipes, uses canned peaches. 
Next peach season stock up on as many fresh (and organic) fruits as you can, can them and have the ingredients for one of you favorite crepes ready throughout the year!
By the way, we have found a great resource to buy organic produce online (and have it shipped directly to your doorstep): OrganicMountainFarms via Amazon.com

This dish uses our dessert crepe batter recipe, which is drizzled on the pan, resulting in crispy and beautiful lacy crepes.
It's then topped with spicy peaches and syrup! Yummy!
Ingredients:
1 large can (26 oz.) of peaches in syrup
½ cup of sugar
1 tsp of ground allspice
1 tsp of whole cloves
½ cup of apple cider vinegar
2 sticks of cinnamon
8 lacy dessert crepes
How to Make Spiced Peaches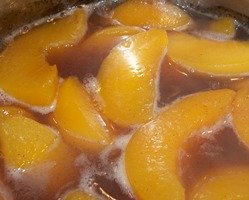 Drain peaches, reserving syrup. Pour syrup into a medium saucepan and add sugar, spices and vinegar. Bring to a boil and reduce temperature. Let simmer for 5 minutes. Add peaches and simmer for an additional 5 minutes. Scoop out cloves and cinnamon sticks. Serve chilled or warm over lacy crepes.

Side Note: Of course you can buy canned peaches, but you could also can them yourself. It's quite easy to do and a lot of fun!
We have used the instructions on Strawberry-Recipes.com for freezing and canning fruits. Both methods work perfectly well to preserve your fresh produce.
Freezing is even easier, but you might not have enough space in your freezer for large quantities. In this case, canning is the best option for you.
How to Make Lacy Crepes
Follow the directions for mixing your dessert crepe batter. When making crepes, however, do not pour all batter out at once.
Instead, drizzle it in a lacy pattern over pan, leaving holes. Cook and flip in the usual matter.
Get the kids involved; it's fun to see all the various patterns you can make!

Assemble crepes:
Lay 2 lacy crepes on the first serving plate. Add one-quarter of the spiced peaches and syrup over the crepes. If desired, add a scoop of vanilla ice cream. Repeat with remaining crepes and serve.
Yield: 4 servings (2 lacy crepes each)

More Simple Dessert Recipes

Return to Homepage
I love to Pin - Check out my Pinterest Boards