Seafood Crepes Recipe
Shrimp, Sausage, and Mushrooms in Cornmeal Crepes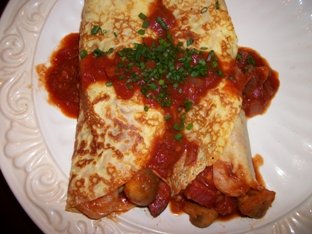 Looking for a new seafood crepes recipe? Do you like shrimp and grits? If so, you'll want to try our delicious shrimp and sausage cornmeal crepes, another one of our favorite easy dinner recipes for crepes.
In this recipe we use chorizo, which is a pork sausage from Spain or Mexico that features smoked dried red peppers, but you can easily substitute your favorite pork or chicken sausage for this seafood crepes recipe. 

If you're a seafood lover, you'll want to add this crepe recipe to your list of quick and easy shrimp recipes.
Your dinner party guests will love the savory combination of shrimp, sausage and tomato sauce wrapped up in our delicious buttery cornmeal crepes!


Ingredients:
1 lb of small shrimp, cooked
7 oz. of chorizo, diced into ¼ inch pieces
2 cups of white button mushrooms, quartered
2 shallots, minced
2 tbsp of olive oil
1 can of diced tomatoes, 22 oz.
¼ cup of tomato paste
2 cups of chicken broth
1 bay leaf
½ tsp of salt
¼ tsp of black pepper
Chopped fresh chives
Sauté chorizo in 2 tbsp of olive oil, 8-10 minutes. Add mushrooms and shallots and sauté another 5 minutes. Add tomato sauce, paste, broth, salt and pepper and bay leaf. Stir together and let simmer on low for 30 minutes. Add shrimp and cook for an additional 3 minutes. Remove and discard bay leaf.
Meanwhile, if you made your crepes ahead of time, wrap them in foil and reheat in a 325-degree oven for about 10 minutes or until warmed.
Assemble crepes: Lay each cornmeal crepe on the final serving dish. Pour ½ cup of filling into each crepe, roll up, and garnish with 1 tbsp of sauce and a sprinkle of fresh chives. Repeat with remaining crepes. Serve immediately.
Yield: 8 servings (1 crepe roll each)
I love to Pin - Check out my Pinterest Boards