Best Seafood Crepes Recipe
Shrimp, Fish, Scallops, and Mushroom Crepes in a Savory Tomato-Saffron Sauce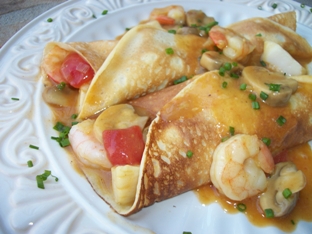 Seeking the best seafood recipes for crepes? How about easy shrimp recipes or recipes for bay scallops?

If so, you should try this seafood crepes recipe with shrimp, fish and bay scallopsin a savory tomato saffron sauce. 


Ingredients:
4 tbsp of butter
4 tbsp of olive oil
1 medium onion, diced
8 oz. of mushrooms
5 tbsp of flour
16 oz. can of diced tomatoes, drained
1 tsp of Old Bay
1 tsp Old Bay seasoning
⅛ tsp of chili powder
Pinch of saffron
Pinch of white pepper
3 cups of seafood broth
2 cups of clam juice
1 cup of firm white fish (such as orange roughy or Alaskan pollock) cut into ¾ pieces
1 cup of de-veined shrimp, tails removed
1 cup of bay scallops or quartered sea scallops
Melt butter and olive oil in a 4-quart medium stockpot. Sauté onion and mushrooms for 3-5 minutes or until vegetables soften and caramelize slightly.
Sprinkle flour on vegetables and stir until flour is completely incorporated, about 1-2 minutes. Add broth, juice, tomatoes, and seasonings. Reduce heat and let simmer for 30 minutes. Taste broth and adjust seasonings, adding a little salt or more pepper as desired. Add fish, shrimp, and scallops and cook 3-5 minutes, or until seafood is no longer opaque.
Meanwhile, if you made your crepes ahead of time, wrap them in foil and reheat in a 325-degree oven for about 10 minutes or until warmed.
Assemble crepes: Lay first crepe on the serving dish. Spread ½ cup of shrimp, fish and scallops inside. Roll up and cover with 1-2 tbsp of sauce. Repeat with remaining crepes. Garnish with minced chives or fresh parsley and serve immediately.
Yield: 8 servings (1 crepe roll each) or 4 servings (2 crepe rolls each).
I love to Pin - Check out my Pinterest Boards