Seafood Crepes
Scallops Recipe with White Wine Sauce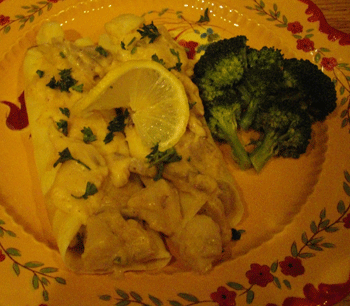 Looking for the perfect scallops recipe? Try crepes with scallops, mushrooms and savory white wine sauce. The seasonings in this crepe—chili powder, white pepper, shallots, and parmesan cheese—will make your tongue tingle and your tummy happy. Use either bay or sea scallops in this delicious scallops recipe. 

Ingredients:
1 lb bay scallops or 1 lb sea scallops
½ lb button mushrooms, sliced
2 tbsp flour
3 tbsp butter
1 tbsp canola oil
1 cup milk
1 tsp fresh lemon juice
½ tsp salt
½ tsp ground white pepper
½ tsp Old Bay seasoning
½ tsp chili powder
1 bay leaf
½ cup water
½ cup dry white wine
2 tbsp diced shallots
2 tbsp diced fresh parsley
⅓ cup grated parmesan cheese
Bring water, wine, lemon juice, Old Bay seasoning and bay leaf to a boil in 1 qt. sauce pan and add scallops. Cook for 3 minutes or until done. If using sea scallops, you may wish to quarter them after cooking. Set scallops aside and retain 1 cup of the cooking liquid.

Heat 1 tbsp oil and 1 tbsp butter in 12" sauté pan on medium heat. When foam from butter subsides, add shallots and mushrooms. Sauté until mushrooms are soft and shallots are transparent, about 5-10 minutes. Add 2 tbsp of butter and 2 tbsp of flour and cook until flour and butter are thoroughly combined. Add 1 cup cooking liquid from the scallops pan (discarding bay leaf) and 1 cup milk. Also add salt, pepper, and chili powder. When the liquid thickens, add cooked scallops. 

Assemble crepes (which should be wrapped in tin foil and warmed in a 325 degree oven for 10-15 minutes if made-ahead) by putting several tablespoons of the mixture in each crepe and folding each side over. Arrange two crepes on each plate, side-by-side. Pour extra sauce on top of each crepe and sprinkle liberally with parmesan cheese and parsley.
Variation: You can also add ½ cup of small boiled shrimp for a variation on this recipe. If you need more liquid add ½ cup cooking liquid and ½ cup milk. You will also need an additional tablespoon of flour and one tablespoon of butter. Add salt and pepper to taste.

Yield: 4 servings (2 crepes each)


Return to Main Dish Crepes.
I love to Pin - Check out my Pinterest Boards