Recipe for Crepes - Easy Recipes for Ground Beef
Shepherd's Pie Recipe for Crepes with Savory Ground Beef & Vegetables in Cheesy Potato Crepes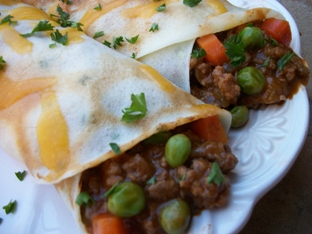 Celebrate St. Patrick's Day traditions with this unusual and delicious recipe for crepes. It's one of our best ground beef recipes featuring a twist on the usual recipe for shepherds pie, or cottage pie, as they call it in Ireland. 

Savory ground beef and vegetables in a slow-simmered sauce are surrounded by cheesy potato crepes.
But you don't have to wait for March 17 to enjoy this comforting and delicious easy main dish recipe.
As all of our recipes for crepes, it's delicious year-round! 
Ingredients:
1¼ - 1½ pounds of lean ground beef
2 tbsp of olive oil
1 medium onion, diced
1 cup of frozen carrots, small dice
1 cup of frozen peas
2 tsp of worcestershire sauce
2 cloves of garlic, minced
2 tbsp of flour
2 tbsp of tomato paste
1½ cups of beef broth
¼ tsp salt
¼ tsp black pepper
2 tbsp of fresh parsley
Heat olive oil in a large skillet. Stir in ground beef and sauté until crumbly and meat is no longer pink. Remove from pan and set aside, reserving 2 tsp of fat.
Sauté onion for 3-5 minutes or until softened and slightly caramelized. Add garlic and cook for an additional minute. Stir in frozen carrots and cook for 2 more minutes. Add flour and stir until absorbed by vegetables, for about 1 minute. Add worcestershire sauce, tomato paste, and beef broth. Stir together and simmer for on very low heat for 15 minutes.
Meanwhile, make crepes, following our basic potato crepe recipe but adding cheddar cheese as the directions indicate. This step gives the crepes a beautiful color and adds to the overall tastiness! Note: If you made your crepes ahead of time, wrap them in foil and reheat in a 325-degree oven for about 10 minutes or until warmed.
After beef and vegetables have simmered for 15 minutes, add green peas and let simmer for an additional 3 minutes. Don't simmer too long or peas will lose their bright green appearance.
Assemble crepes: Lay first crepe on the serving dish. Put ½ cup of shepherds pie filling inside crepe and roll up. Repeat with remaining crepes. Garnish with fresh parsley and serve immediately.
Yield: 8 servings (1 crepe roll each) or 4 servings (2 crepe rolls each). 
Need an easy Irish-inspired dessert? We recommend our Irish Coffee Pie Crepes.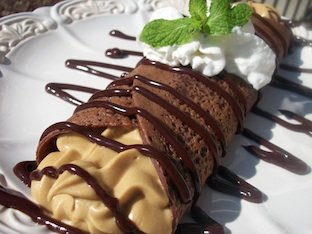 If you like the smooth flavor of Irish whiskey and the rich flavor of coffee, you'll love this treat. It's coffee and dessert, wrapped up in a delicious chocolate crepe. 

Return to Main Dish Crepe Recipes.
I love to Pin - Check out my Pinterest Boards