Recipe for Chicken Parmesan 
Crepes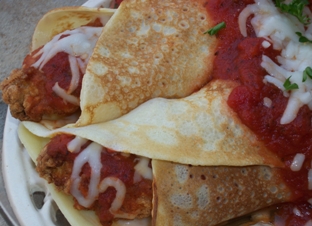 If you like chicken parmesan, you'll love our recipe for chicken parmesan crepes. This crepe recipe features crispy chicken covered with tomato-basil sauce and a mixture of parmesan and mozzarella cheeses, all rolled up in a delicious crepe.

This crepe filling recipe is one of my favorite easy dinner recipes.
Make it easy on yourself by starting with ready-made crepes, frozen chicken tenders, and jarred tomato sauce.
Add Italian green beans and a salad and you've got yourself a complete family meal in minutes!
Ingredients:
1 jar of prepared tomato-basil pasta sauce
16 frozen, breaded chicken tenders
2 cups of shredded parmesan cheese
2 cups of shredded mozzarella cheese
1 tsp of dried Italian herbs
Bake chicken tenders in a 400-degree oven for 15 minutes or until throughly heated.
Meanwhile, make basic crepes recipe but add 1 tsp dried Italian herbs to the batter. Prepare crepes following our directions in How to Make Crepes in 6 Easy Steps. Set aside.
Assemble crepes: Lay first crepe on a flat working surface. Add 1-2 chicken tenders, depending on size, inside the crepe. Top with 3 tablespoons of tomato sauce. Sprinkle one tablespoon of mozarella cheese and one tablespoon of parmesan cheese on top. Roll up. Place crepe inside an oiled casserole dish. Repeat with remaining crepes. Pour 1 cup of tomato sauce over all crepes and top with ½ cup of mozzarella and ½ cup of parmesan cheese. Bake in a 400 degree oven for 10-15 minutes or until cheese melts. Serve immediately.
Yield: 4 servings (2 crepe rolls each)
Now that you know how to make chicken parmesan crepes, try another one of our recipes for Italian-style crepes: Vegetarian Crepes with Mushrooms, Spinach and Tomato Sauce.
Return to Quick Crepes. 

Return to Home.

I love to Pin - Check out my Pinterest Boards