Quick Easy Dessert Recipes
Heavenly Trifle Crepes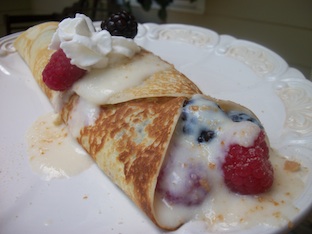 Seeking quick easy dessert recipes? Try our Trifle Dessert Recipes for Crepes. This simple dessert features a sherry custard sauce dotted with fresh raspberries and blackberries.

Who doesn't love the traditional English trifle recipe?
It's certainly scrumptious but with all the pound cake and jam, it's not only labor intensive but quite calorie-laden.
In this quick easy dessert recipe, we've slimmed down the original, but we promise, we didn't "trifle" with the flavor at all!
If you're worried about the alcohol contained in this recipe, you can replace the rum with rum flavor. Unfortunately I haven't found a good substitute for cream sherry, but the recipe will taste great without it, too.
Ingredients:
1 pint of whole milk
1 egg
3 egg yolks
½ cup of sugar
1 tbsp of cornstarch
1 tsp of rum
½ cup of cream sherry
pinch of salt
1 pint of fresh raspberries
1 pint of fresh blackberries
1 cup of of crumbled vanilla wafers
whipped cream and additional berries, optional for garnish
Instructions for the Triffle Dessert Crepe

Mix milk, sugar, cornstarch and salt together.
Place in a large saucepan over medium heat. Stir constantly until slightly thickened.
Whisk together egg yolks and egg in a small bowl. Add 1 cup of hot milk mixture to eggs, stir and add back to the rest of the milk mixture in the saucepan.
Continue cooking while stirring constantly, but take care that the mixture does not boil and remains at a steady simmer until it reaches the consistency of custard.
Remove from heat and stir in rum and cream sherry. Let mixture cool for about 30 minutes in the refrigerator.
Remove and stir in fruit.
Assemble crepes:
Lay first crepe across serving platter. Spoon ½ cup of custard-berry mixture across the center of crepe. Roll up. Garnish with whipped cream, berries and crumbled wafers. Repeat with remaining crepes.
Yield: 8 servings (1 crepe each)
Variations to this Dessert Recipe:
Instead of raspberries, you can also use strawberries (my favorites). And what is even better, if you can get your hands on them, are fresh cherries. Just make sure, you remove the stones before using them :-)

Otherwise it will be a not so pleasant experience, with everyone spitting the stones.
Return to more Dessert Recipes
I love to Pin - Check out my Pinterest Boards