Quick Dinner Recipes for Kids
Chicken Pot Pie Recipe for Crepes: A Quick and Tasty Meal Your Kids Will Love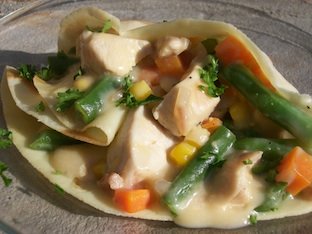 Need quick dinner recipes for kids? Try our chicken pot pie recipe for crepes! This crepe recipe is quick and satisfying and can be on the table in under 30 minutes. 

Easy dinner recipes are a must for busy families. Easy chicken recipes are my favorite "go to" recipes.
And chicken pot pie recipes—with their mild golden filling—are a favorite for all ages.
But Moms will especially love this one because there's no crust to bake! 
Ingredients:
1 tbsp of canola oil
1 pound of boneless chicken breasts, diced into ¼-inch pieces
1 shallot, minced
1 can of cream of chicken soup
1 cup of milk
2 cups of frozen mixed vegetables
1 tsp of dried thyme
½ tsp of salt
¼ tsp of pepper
parsley for garnish
Step 1: Make Chicken Pot Pie Filling
Heat oil in a large skillet over medium heat. Add chicken and sauté until no longer translucent. Add shallot and continue to sauté until chicken and shallots are golden brown. 
Add soup, milk, and seasonings and stir to combine.
Add vegetables and reduce heat to low.
Cover and let simmer for 5 minutes until sauce has thickened slightly and vegetables are cooked. 
Step 2: Make Crepes
Meanwhile, make crepes and wrap in foil to keep warm.
If you made your crepes ahead of time, remove them from the refrigerator or freezer, wrap them in foil and reheat in a 325-degree oven for about 10 minutes or until warmed. 
Step 3: Assemble Crepes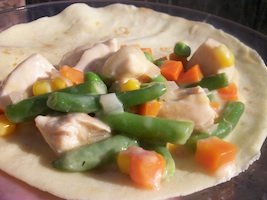 Lay first crepe on a flat serving dish.
Spread ½ cup of filling across the middle of crepe.
Fold in half and then in quarters. Sprinkle parsley over top. Roll up and repeat with remaining crepes.
Serve immediately. 

Yield: 4 servings (1 crepe each)
If you like this recipe, try our elegant Turkey Pot Pie Recipe in Thyme Crepes. 
Return to Easy Recipes for Kids. 

Return to Quick Dinner Crepes. 

Return to Home.

I love to Pin - Check out my Pinterest Boards