Philly Steak Sandwich Recipe for Crepes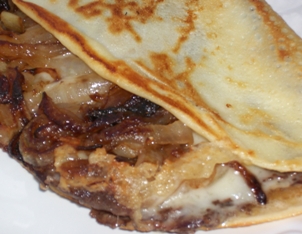 Need more quick dinner ideas? Try our philly steak sandwich recipe for crepes. This easy crepe recipe is also a great minute steak recipe featuring caramelized onions and swiss cheese. 

Ingredients:
4 thin sandwich or minute steaks
8 slices of swiss cheese, sandwich size
1 cup of caramelized onions
1 tbsp of butter
Cook sandwich steaks over medium heat until thoroughly cooked,about 1 minute on the first side and 15-30 seconds on the second side or until no longer pink. Remove from heat and drain on paper towels.
Assemble crepes: Lay first crepe on a flat working surface. Lay one sandwich steak on one half of the crepe. Top with 2 slices of swiss cheese, followed by ¼ cup of onions. Fold over the other half of crepe to form a half-moon shape. Repeat with remaining crepes.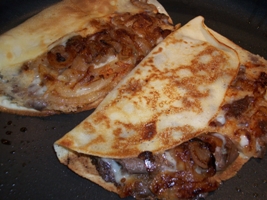 Grill crepes: Heat 1 tablespoon of butter or margarine in a medium skillet over medium low heat until melted. Using a spatula, place 2 crepes in skillet and grill both sides until golden brown and the cheese has melted. Repeat with remaining crepes and serve immediately.
Yield: 4 servings (1 crepe each) 
Return to Quick Crepes.

Return to Home.

I love to Pin - Check out my Pinterest Boards