How to Make Pot Roast
Crock Pot Recipes
Crepes Filled with Savory Pot Roast, Vegetables and Red Wine Sauce
Want to know how to make pot roast or how to make roast beef? This is the perfect roast beef recipe for crepes. The meat is so tender that you can cut it with a butter knife.
Follow these 4 easy steps and you'll end up with theworld's best pot roast filling for your savory crepes.
Let your slow cooker do the hard work, leaving you plenty of time to make your crepes and finish the dish with an unforgettably delicious pan sauce. 
Ingredients:
2½ - 3 lb. beef chuck roast
1 tsp of kosher salt
½ tsp of black pepper
2 tbsp of cooking oil
2 cups of beef broth
½ cup of dry red wine
1 clove of minced garlic
1 tsp of dried thyme
1 cup of frozen pearl onions
1 cup of baby carrots
½ cup of frozen peas
2 tbsp of butter
1 tbsp of flour
How to Make Pot Roast in 4 Easy Steps
Step 1 - Brown the Roast
For optimum flavor, I highly recommend browning your roast before placing it in the slow cooker.
To do so, heat oil in a large skillet over medium heat. Season roast liberally with salt and pepper. Place in skillet and brown on all sides. Cover with foil to minimize oil spattering.
Step 2 - Place Pot Roast and Vegetables In Slow Cooker
Place roast in slow cooker. Pour wine and broth over roast. Stir in onions, carrots, thyme and garlic. Cook on high for 4 hours or until meat shreds easily with a fork. The last half hour of cooking time would be a great time to make your crepes. Cover with foil to keep them warm.
After pot roast is done, empty roast and vegetables into a colander over a large bowl, reserving cooking liquid. Cover roast and vegetables to keep warm.
Step 3 - Make Pan Sauce
Melt butter over medium heat in large saucepan. Stir in flour and cook, stirring continuously, until mixture turns into thick paste (or roux), golden in color, about 2 minutes. Whisk in reserved cooking liquid.
Bring to a simmer and continue to stir until mixture is thick enough to coat the back of a spoon. 
Add roast, vegetables and frozen peas to saucepan and cover.
Reduce heat to low and simmer long enough to reheat roast and cook peas (about 7 minutes).
Shred or slice beef into small strips or chunks. 
Step 4 - Assemble Crepes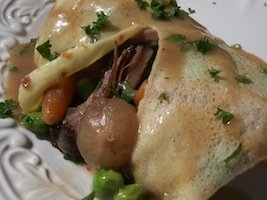 Now that you know how to make pot roast, you're ready for the fun part: putting together your crepes.
Lay first crepe flat on your serving dish.
Place ½ cup of  beef and vegetables over the middle of your crepe.
You may serve as is, or roll up burrito style as pictured.
Repeat with remaining crepes. Drizzle extra pan sauce on top and garnish with chopped parsley. Serve immediately. 

Yield: 8 servings (1 crepe roll each)
Note: Beef chuck roast recipes like this one make great leftovers for more crepes the next night!
Return to Main Dish Crepes. 

Return to Home.

I love to Pin - Check out my Pinterest Boards