How to Make Poached Eggs
Poached Eggs Florentine Recipe 
for Brunch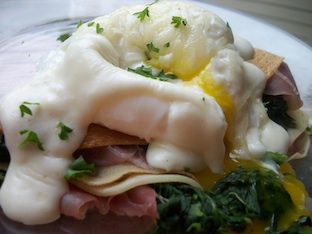 Want to know how to make poached eggs? Read along for our poached egg recipe for crepes with spinach and ham. This is a great recipe when you're seeking brunch party ideas. 

This recipe will not only show you how to make poached eggs, it will also introduce you to the delicious taste of spinach florentine.
It's an elegant recipe that's perfect for a brunch party, but don't wait for a celebration to make this tummy-pleasing dish.
For an extra twist, add ham and you've also got a satisfying supper!
Ingredients:
8 poached eggs
 (see directions below)
1 package of chopped frozen spinach
8 slices of prosciutto ham (optional)
¼ cup of butter
2 tbsp of flour
2 cups of milk
½ tsp of salt
¼ tsp of white pepper
½ cup of grated swiss cheese
fresh chopped parsley, optional for garnish
How to Poach Eggs: Poach eggs by pouring each one into a skillet filled with simmering water (brought to a boil and then reduced to a simmer). Do this slowly by first breaking each egg into a small, tempered bowl and slowly pouring the egg into the simmering water. Swirl the egg white with a fork over the yolk so that it doesn't float away. After all of the eggs are placed in the water, let simmer for 6 minutes, or until yolks are cooked to your preference. I prefer mine very soft, as pictured. Remove eggs from the pan with a slotted spoon to drain. Set aside.
Cook spinach, drain well. Set aside.
Melt butter in a medium skillet. Add flour and stir well until absorbed (about 1 minute). Stir in milk, salt, and pepper. Cook over medium heat until sauce is bubbly and thick. Add cheese and stir together until cheese melts.
Assemble crepes: Preheat oven to 400 degrees. Lay first crepe flat on a baking sheet lined with foil. Top with ½ cup of spinach and, if desired, one slice of ham (optional). Fold crepe in half and then in half again. Top with poached egg and ladle egg with 2 tbsp of sauce. Repeat with remaining crepes. Place baking sheet in oven and bake for 10 minutes or until sauce begins to bubble and crepe turns golden brown. Serve immediately.
Yield: 8 servings (1 crepe each)
Return to Brunch Menu Ideas. 

Return to Home. 

I love to Pin - Check out my Pinterest Boards