How to Make Egg Salad
Best Egg Salad Recipe for Crepes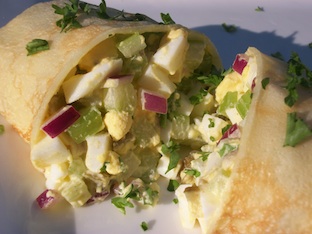 Want to learn how to make egg salad? Need easy lunch recipes? Here you'll find the best egg salad recipe for your crepes. 

The perfect egg salad has chunks of hard-boiled eggs, sweet pickles, red onion and celery.
Whether you're seeking simple brunch recipes or easy lunch recipes, our recipe for egg salad is a winner.
Especially when wrapped inside a warm and tender crepe!
Ingredients:
6 eggs
2 tbsp of red onion, minced
½ cup of diced celery
½ cup of diced sweet pickles*
4 tbsp of mayonnaise
1 tsp of sugar
½ tsp of salt
¼ tsp of black pepper
1 tsp of fresh lemon juice
dash of cayenne pepper
¼ cup of fresh parsley, chopped
Bring eggs to boil in a medium saucepan. Let boil for 10 minutes. Afterwards, cover eggs with cold water and set aside while you assemble the other ingredients. This keeps a ring around the yolks from forming.
Mix together celery, onion, parsley, salt, black and red peppers, sugar, lemon juice and mayonnaise thoroughly until combined. Chop eggs and fold into the mixture.
Assemble crepes: Lay first crepe flat on serving dish. Spoon ⅔ cup of egg salad into the middle of the crepe. Roll up burrito-style. Cut in half and sprinkle with more parsley, if desired. Repeat with remaining crepes. Serve immediately.
Yield: 4 servings (1 crepe each)
*Note: You can substitute drained pickle relish for this step but I prefer to chop the pickles myself so that the pieces are a little chunkier, a step which gives the salad more texture and more general yumminess.
Return to Easy Vegetable Recipes. 

Return to Home.

I love to Pin - Check out my Pinterest Boards