Gingerbread Desserts Recipe for Crepes
Gingerbread Crepes with Maple Lemon Cream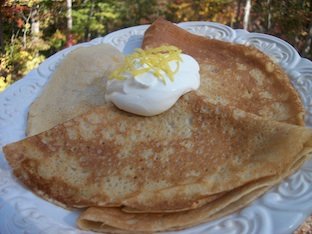 Enjoy fall dessert recipes? Try gingerbread desserts such as our easy Gingerbread Crepes with Maple Lemon Cream. It will also become one of your favorite Thanksgiving dessert recipes. 

Making gingerbread desserts is the perfect way to counter the cooler temperatures of fall and winter.
Our gingerbread crepes include a generous helping of molasses, cinnamon, ginger and nutmeg, the perfect mix of sweetness and spice.
Enjoy them with a dollop of yummy maple-lemon cream! 
Ingredients for Crepes:
1½ cups all-purpose flour
4 tablespoons melted butter
1¾ cups skim milk
3 eggs
1 tablespoon of molasses
½ tsp of vanilla
½ tsp of ground cinnamon
¼ tsp of ground ginger
⅛ tsp of allspice
pinch of salt
Combine all ingredients into a blender and mix until well-blended. You may also combine them by hand. If combining by hand, mix the eggs and milk separately and combine slowly with the dry ingredients. Mix in the melted butter last. Important: Refrigerate the batter for at least 30 minutes. This gives the batter the opportunity to rest and fully come together. 
Yield: 24 6-inch crepes (8" pan) or 18 8-inch crepes (10" pan) 
How To Make Crepes in 6 Easy Steps. Now that you've made your batter, we highly recommend that you read this detailed list of instructions—from flipping the crepe to storing them until ready to use.
For the Maple Cream Topping:

1 cup of sour cream
1 tbsp of maple syrup
1 tsp of lemon zest
After your crepes are made, combine the ingredients above for the topping. Stir 2-3 crepes per person with a generous dollop of maple lemon cream and serve immediately.
Return to Easy Dessert Recipes.
I love to Pin - Check out my Pinterest Boards