Easy Green Bean Recipes
Classic Green Bean Casserole Recipe for Crepes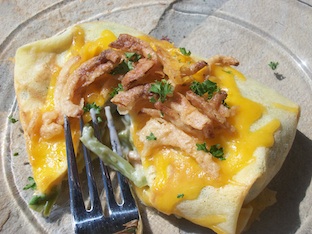 Seeking easy green bean recipes? Enjoy the classic green bean casserole recipe? You'll want to try this green bean recipe for crepes! 

Vegetable main dish recipes are not only great quick dinner ideas, they're also much cheaper.
This easy green bean recipe serves 6 for under $10, crepes included!
Each forkful of this comforting crepe recipe offers incomparable value, not to mention taste.
Ingredients:
2 cans of French-cut green beans, drained well
1 can of cream of mushroom soup
1 can of French-fried crispy onions
1 small can of sliced mushrooms, drained
1 cup of grated mild cheddar cheese
1 tsp of worcestershire sauce
¼ tsp of pepper
Assemble crepes: Preheat oven to 350 degrees. Mix together green beans, mushrooms, soup, worcestershire sauce and pepper. Lay first crepe on a flat working surface. 
Spoon ½ cup of mixture in the middle of the crepe.

Sprinkle 2 tbsp of cheese on top. Roll up burrito-style.
Repeat with remaining crepes.
Arrange all six side-by-side in an oiled casserole dish. 

Bake for 25 minutes. After 20 minutes, remove dish from oven. Sprinkle an additional tbsp of cheese and 1 tbsp of fried onions on top of each crepe. Return to oven for remaining 5 minutes or until cheese melts and onions turn golden brown.
Want more easy vegetable main dish recipes? Take me to Broccoli-Cauliflower Gratin Recipe for Crepes. 

Return to Easy Vegetable Recipes 

Return to Home. 

I love to Pin - Check out my Pinterest Boards