Easy Breakfast-Brunch Recipe for Lemon Poppyseed Crepes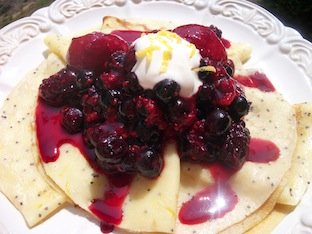 Seeking an easy brunch recipe? When you don't know what to serve for brunch, try our lemon poppyseed crepes with mixed berry sauce. 

With lemon zest and poppyseeds, these tangy crepes have the right amount of zing and sweetness.
They're the perfect backdrop to our mixed berry sauce, which is the crowning touch to a dish that will quickly become one of your favorite brunch ideas.
Ingredients:
½ tbsp of poppyseeds
2 tsp of lemon zest
1 pkg (16 oz.) of frozen mixed fruit: blueberries, raspberries, strawberries, and blackberries
1 tbsp of lemon juice
¼ cup seedless raspberry jam
1 cup of sour cream
1 tbsp of honey
Thin strips of lemon zest for garnish
Add poppyseeds and lemon zest to crepe batter. Next, make crepes according to directions in How to Make Crepes. You may also make your crepes ahead of time, wrap them in foil and reheat in a 325-degree oven for about 10 minutes or until warmed. You will need 12 crepes for this recipe.
Stir together lemon juice and jam in a small saucepan over medium heat until jam melts. Stir in frozen fruit. Bring to a boil and reduce heat. Simmer for 5-7 minutes until fruit heats thoroughly and a sauce forms. Stir occasionally but gently so fruit retains its shape.
Mix together sour cream and honey. Set aside.
Assemble crepes: Fold all 12 crepes into quarters. Lay three crepes on serving dish. Top with ½ cup of sauce, 2 tbsp of honey-sour cream mixture and dust with remaining zest. Repeat with remaining crepes and serve immediately.
Yield: 4 servings (3 folded crepes each)
If you enjoyed this easy brunch recipe and you love poppyseeds, you'll want to try our Poppyseed Chicken Recipe for Crepes. It's an easy chicken recipe adapted from one of the world's most popular chicken casserole recipes.
Return to Brunch Menu Ideas. 

Return to Home. 

I love to Pin - Check out my Pinterest Boards