Crepe Filling Recipe - Elvis Sandwich
Peanut Butter and Banana Sandwich Crepe Drizzled with Honey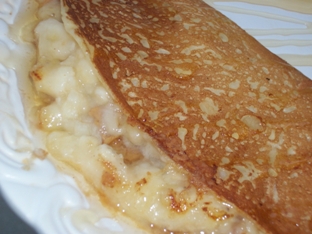 If the Elvis sandwich is always on your mind, you can't help falling in love with this crepe filling recipe. It features a crepe filled with peanut butter and bananas, grilled until it's golden brown, and drizzled with honey. 

This recipe for crepes was developed in honor of World of Crepes fan John W. Graham, a lifelong devotee of the "King."
The "Elvis Crepe" is another one of our simple dessert recipes for crepes. Want to turn this recipe into a main course crepe dish? Be like Elvis and add a slice of bacon!
Ingredients:
8 tbsp of peanut butter
4 bananas, peeled and mashed, divided
4 tbsp of honey
2 tbsp of butter for grilling
Assemble crepes: Lay first crepe on a flat working surface. Spread 2 tbsp of peanut butter on one half of the crepe. Top with one portion of bananas (equivalent of 1 mashed banana.) Fold over the other half of crepe to form a half-moon shape. Repeat with remaining crepes.
Grill crepes. Heat 1 tablespoon of butter or margarine in a medium skillet over medium low heat until melted. Using a spatula, place 2 crepes in skillet and grill both sides until golden brown and peanut butter begins to melt. Repeat with remaining crepes. Right before serving, drizzle each crepe with 1 tbsp of honey. Serve immediately.
Yield: 4 servings (1 crepe each)
While we're not sure if the "King" ever ate crepes, we think we know what he'd say about this crepe filling recipe:

That's All Right!
Return to Easy Dessert Crepes. 

Return to Home.

I love to Pin - Check out my Pinterest Boards