The Essential Guide to Crepes is Available Now!
If you love crepes, you've probably noticed that there are very few cookbooks out there devoted exclusively to our favorite subject! Sadly, the few that do exist are more than 20 years old!
And if you haven't noticed, crepes have come a long way since then. Once considered just street food, crepes are now revered for their versatility, ease of preparation, and extremely low cost. Most important of all, they're delicious!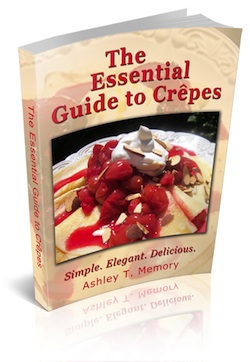 The Essential Guide to Crepes is a 60-page book that gives step-by-step instructions (with pictures) on how to make the world's best crepes with a modern twist. We've included our top 25 recipes and 10 bonus recipes not found anywhere else!
This includes recipes for our favorite side dishes, as well as recipes, strategies, and wine recommendations for throwing an unforgettable crepe party!
Because The Essential Guide to Crepes is an electronic book, you'll be able to download it directly onto your computer and print the pages as you need them. This format allows us to offer the book at the low introductory price of just $12.95.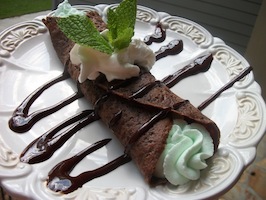 Don't miss exciting new recipes such as Steak Au Poivre with Cognac Sauce in Crepes, Cherry Almond Dessert Crepes and Chocolate Crepes with Crème de Menthe Chantilly! It's the perfect "after-dinner" mint to our full Crepe Party Menu, also included!
Read what others say!
"If you are a fan of crepes but have never made them, this book will show you exactly how it is done. If you have made your own before, this book will show you how to make them better. Seriously! The recipes are nothing short of amazing whether you want to dazzle your dinner guests with a sumptuous dessert or simply treat your family to a wonderful, delicious meal. No kitchen should be without this one!"—R. Heiser, Dallas, PA

"In The Essential Guide to Crepes, Ashley Memory makes every reader long to be her dinner guest. Ashley shares tempting recipes and mouthwatering photography, as well as great tips for first-time crepe makers. With illustrated step-by-step instructions, she educates home chefs on proper tools and techniques for crepe-making, and even some French history and culture. The book wraps up with guidelines for hosting a crepe party to enjoy these drool-worthy recipes with friends (and show off your new kitchen skills). The format is organized and easy-to-read, showing home chefs how simple it can be to enjoy French cuisine any day of the week!" —Kim Henke

"For the novice crepe maker this guide is invaluable, for the seasoned, this guide is invaluable; for the recipe collector, this guide is invaluable and for all, it's timeless."—Peter C, Kaeng Khoi, Thailand

Ready to Order?
Order The Essential Guide to Crepes directly from this page. Once your payment is approved, you will be taken to a page with a link for immediate download.
Please note that no physical products will be shipped. After you order, you will get INSTANT ACCESS to download the e-book. The e-book format is Adobe acrobat PDF, which can be viewed on Mac or PC.
If, for any reason, this book does not meet your standards, you may request a full refund within 60 days of purchase. That's right... I will provide you with the most generous offer of a 60-day, 100% money back satisfaction guarantee.
For any questions about this book, please contact info@world-of-crepes.com.
P.P.S.
Your privacy is guaranteed! All orders are processed by ClickBank for added security.
I love to Pin - Check out my Pinterest Boards