Chicken Normandy Recipe

Chicken Normandy and Apples Simmered in a Brandy Cream Sauce Rolled Up in Crepes
Adapting this chicken normandy recipe for crepes was a labor of love, a reminder of past journeys through Normandy, France.
This bucolic area is famous for its fresh sweet cream, butter, and signature apple brandy, Calvados.

Make this crepe recipe just once and you'll see why kings of France fought for years to reclaim the region of Normandy, which had been given as a "gift" to appease the invading Vikings.
The rich and sweet aroma of this delectable sauce is certain to drift beyond your kitchen.
Beware: The fragrance has been known to go so far as the living room, distracting those family members who are trying to watch the ACC basketball tournament. And while we hope you'll serve it at your next dinner party, our chicken normandy recipe also makes a great half-time treat for sports fans.
Ingredients:
3 boneless chicken breasts, diced into ¼-inch pieces
2 firm, sweet-tart apples (such as Fuji), cores removed, coarsely chopped
6 shallots

½ cup of chicken broth
½ cup of apple brandy, divided (such as Calvados)
½ cup of heavy cream
3 tbsp butter, divided
1 tbsp of vegetable oil
1 tbsp of brown sugar
parsley for garnish
Melt 1 tbsp of butter and all of oil in a large skillet. Add chicken and shallots. Brown chicken on medium high until golden brown and cooked through, for about 8 - 10 minutes. Deglaze pan with ¼ cup of brandy.
Reduce heat and add chicken broth. Stir to combine and let simmer for 1-2 minutes. Set aside.
Note: If you made your crepes ahead of time, now is the time to wrap them in foil and reheat in a 325-degree oven for about 10 minutes or until warmed.
In another medium skillet melt remaining 2 tbsp of butter. Add apples and stir, cooking for 5 minutes until softened but not mushy. Add brown sugar and reserved brandy and stir to combine. Reduce heat and let simmer for 2 minutes. Reserve ¼ cup of apples and set aside for garnish.
Add apples and sauce to reserved chicken in large skillet. Bring to a simmer and add cream. Stir together until cream is thoroughly incorporated and chicken is coated with sauce.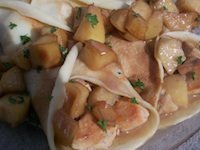 Assemble crepes:
Ladle ⅓ cup of chicken and sauce over the first crepe. Roll up. Top with 2 tbsp of reserved caramelized apples. Repeat wit remaining crepes and serve immediately.
Yield: 6 servings (1 crepe roll each)
Want to know, which pan to use? Read our review.


Return from Chicken Normandy to more Main Courses

Return to Homepage
I love to Pin - Check out my Pinterest Boards