Super Bowl Party Chicken Crepes Recipe
Buffalo Chicken with Blue Cheese Dressing and Diced Celery Rolled in a Crepe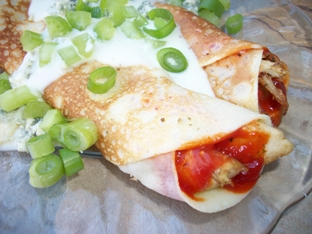 Seeking a new chicken crepes recipe? Enjoy buffalo chicken recipes? Try our buffalo chicken recipe for crepes, another one of our easy chicken recipes. They're spicy and just a little bit sweet. 

If you don't know what to have for dinner, try this quick dinner idea based on the popular buffalo chicken recipe.
These chicken crepes also make delicious Super Bowl party ideas.
Unlike chicken wings, there'll be no bones to clean up. In fact, you won't have any leftovers at all!
Ingredients:
4 boneless chicken breasts, sliced into thin strips (about 5 strips per breast)
2 tbsp of olive oil
1 tbsp of poultry grill seasonings
1½ cups of ketchup
3 tbsp of hot sauce (for medium hot, add more if you desire)
2 tbsp of butter
1 cup of diced celery
½ cup of sliced green onions
½ cup of refrigerated blue cheese dressing
½ cup of blue cheese crumbles
Make crepes and wrap in foil to keep warm. If you made your crepes ahead of time, remove them from the refrigerator or freezer, wrap them in foil and reheat in a 325-degree oven for about 10 minutes or until warmed.
Mix chicken strips, olive oil and seasoning in a large bowl, coating chicken well. Heat olive oil over medium heat in a large skillet. Add chicken and sauté for 3-4 minutes on each side or until done. Remove from heat.
Melt butter in small saucepan. Stir in ketchup and hot sauce and bring to a simmer. Remove from heat. Pour sauce over chicken strips and stir to combine.
Assemble crepes: Lay first crepe on the serving dish. Put 2-3 slices of chicken inside each crepe and roll up. Pour 2 tablespoons of dressing on the crepe, followed by 1 tbsp of celery and 1 tbsp of green onions. Repeat with remaining crepes. Serve immediately.
Yield: 8 servings (1 crepe roll each) or 4 servings (2 crepe rolls each).
Want more easy Super Bowl Party recipes? Try our Easy Chili in Cornmeal Crepes.
I love to Pin - Check out my Pinterest Boards