Chicken Crepes Recipe
Coq Au Vin Recipe for Chicken Braised in Red Wine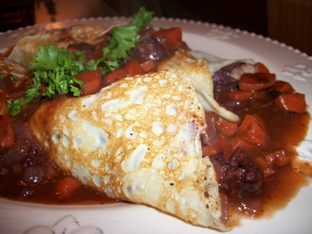 Seeking romantic dinner ideas? Try our chicken crepes recipe for chicken braised in red wine. This recipe is based on the beloved French dish of coq au vin, which started as a peasant meal and is now one of the most popular dishes in France. 

Like the traditional recipe, we use bacon, onion, carrots and garlic, which gives our sauce a deep flavor that tastes like it cooked all day.
This easy chicken recipe is simply divine rolled up in crepes, which makes for an excellent romantic dinner or dinner party recipe.
Ingredients:
2 pounds of boneless breast chicken tenders (about 16 pieces)
6 slices of bacon
2 tbsp of butter
3 tbsp of all-purpose flour
3 cups of good quality red wine
2 tbsp of tomato paste
1¾ cup of chicken broth
2 garlic cloves, minced
2 cups of button mushrooms, quartered
4 large carrots, diced
2 onions, diced
2 tbsp of fresh thyme leaves, chopped
1 bay leaf
1 tsp of salt
½ tsp of black pepper
Fry the bacon in a large skillet until crisp. Remove from pan and place on paper towels. Drain off all but 2 tablespoons of bacon grease. Season chicken with salt and pepper on both sides. Brown chicken in grease until golden brown (about 2 minutes on each side). Remove and set aside.
Melt butter in pan. Add carrots, onions, and garlic and sauté until softened and slightly caramelized (about 3 minutes). Add the mushrooms and garlic and sauté for 2 more minutes. Reduce heat, sprinkle the flour over vegetables and stir. Continue to cook for an additional 2 minutes, stirring constantly.
Add stock, wine and tomato paste to pan, stirring well to dissolve flour. Crumble reserved bacon and add it, thyme, bay leaf, and reserved chicken to pan. Stir together and let simmer on low heat for 30 minutes, adding more wine if necessary. After it has cooked, adjust seasoning by adding a sprinkle more of salt or pepper to your taste. Remove bay leaf.
Meanwhile, if you made your crepes ahead of time, wrap them in foil and reheat in a 325-degree oven for about 10 minutes or until warmed.
Assemble crepes: Lay the first crepe on the serving dish. Put two chicken tenders inside the crepe along with ¼ cup of vegetables and sauce. Roll up and drizzle with two tablespoons of vegetables and sauce. Repeat for remaining crepes.
Yield: 8 servings (1 crepe roll each)
I love to Pin - Check out my Pinterest Boards