Recipe Chicken Divan for Crepes

Easy Dinner with Broccoli and Cheese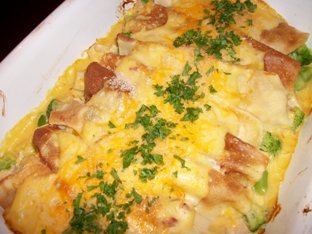 Looking for a creative new recipe chicken divan?
You've found it. Our chicken crepe with broccoli and cheddar cheese is a dish you don't want to miss.
A comforting casserole that is also one of our easy dinner recipes. We've made it hundreds of times and every time we're thrilled again. Especially kids love it (because of the baked cheese) and you won't have any problem with picky eaters. I've yet to see a child that passes our Chicken Divan.
This recipe for crepes starts with simple ingredients such as frozen broccoli and cream of chicken soup.
I used frozen broccoli cuts, because they're easier to find. But if you have access to fresh organic broccoli, the crepe will taste even more delightful !
Once you're proficient, you can also make your own sauce or try one of our sauce recipes instead of the cream of chicken soup. Of course, the dish will take longer to prepare when making your own sauce, but you'll be rewarded with an even better taste.

Ingredients:
2 ½ cups diced or shredded cooked chicken
3 cups of frozen broccoli cuts, thawed and drained
1 cup of mild cheddar cheese, divided
2 cans of cream of chicken soup
⅔ cup of milk
¼ cup of bread or cracker crumbs
¼ cup of chopped fresh parsley
½ tsp of salt
¼ tsp of black pepper
1 tbsp of melted butter
Preheat oven to 400 degrees. Stir together, salt, pepper, milk and ½ cup of cheese in a large bowl. Combine well. Scoop out 1 cup of the soup mixture and set aside. Add chicken and broccoli to the remaining mixture and stir together.
Assemble crepes: Lay each crepe on a flat working surface. Spoon ½ of the chicken-broccoli mixture inside and roll up. Lay the crepe inside an oiled 9" x 13" casserole dish. Repeat with the remaining crepes.
Spread the reserved soup mixture down the middle of the crepes and along the sides. Spread the remaining cheese across the middle and top with the bread or cracker crumbs. Pour melted butter over top of crumbs.
Bake for 20-25 minutes until the cheese melts and crepes are bubbling and golden brown. Sprinkle with parsley and serve immediately.
Yield: 8 servings (1 crepe roll each)


Return from Recipe Chicken Divan Recipe to Main Dishes
I love to Pin - Check out my Pinterest Boards