Chicken Crepe Recipe
Chicken, Artichokes, and Spinach Rolled up in a Luscious Cream Cheese, Parmesan, and Garlic Crepe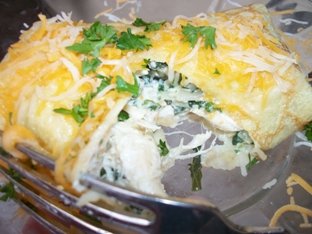 Seeking a new chicken crepe recipe? Enjoy the creamy spinach and artichoke dip recipes served in restaurants? This recipe for crepes brings all of these flavors together in one savory cheesy bundle! 

Chicken crepes are some the easiest chicken recipes around.
Based on a popular recipe for easy party food appetizers, this delicious chicken crepe recipe will turn any dinner into a party!
Your guests won't miss an appetizer with this satisfying main dish crepe recipe.
Ingredients:
1 tbsp of canola oil
½ cup of diced sweet onion
1 clove of garlic, minced
1 14-oz jar of marinated artichokes, drained and diced
1 cup of frozen chopped spinach, drained and squeezed dry
½ cup of grated parmesan cheese
¼ cup of mayonnaise
1 8 oz. block of cream cheese, room temperature
2 cups of diced or shredded cooked chicken
½ tsp of salt
¼ tsp of black pepper
1 cup of colby jack (or a mixture of cheddar and mozzarella cheeses), grated
¼ cup of parsley (optional)
Preheat oven to 350 degrees. Stir together cream cheese, parmesan cheese, salt and pepper, and mayonnaise together in a medium bowl. Set aside.
Sauté onions in oil in a medium skillet over medium heat until onions are softened and slightly caramelized (about 5 minutes). Add garlic and cook for an additional minute. Add artichokes and spinach and sauté for 2 minutes longer. Add chicken and cheese-mayonnaise mixture to pan and stir until thoroughly combined. Remove from heat.
Assemble crepes. Add one-eighth of the crepe filling recope inside the first crepe. For an impressive presentation, roll up each side vertically and then horizontally or burrito-style. Repeat with remaining crepes. Arrange crepes side by side in an oiled 9" x 13" baking dish. Drizzle each crepe with 1 tbsp of colby jack. Bake for 20 minutes or until cheese melts. Before serving, garnish with fresh parsley and extra cheese.
Yield: 8 servings (1 crepe each)
Return to Main Dish Crepes. 

Return to Home.

I love to Pin - Check out my Pinterest Boards