Cherry Tomato Recipes for Crepes
Zucchini Crepes Filled with Cherry Tomatoes, Basil and Cheddar Cheese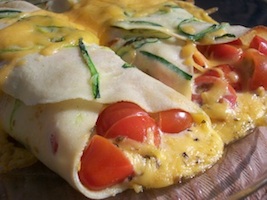 Seeking cherry tomato recipes? Enjoy easy crepes? If you're on the lookout for the best vegetarian recipes, you'll want to try our zucchini crepes filled with cherry tomatoes and melted cheddar cheese.

As summer rolls around you may find yourself with an abundance of zucchini and cherry tomatoes.
If so, you'll want to make this easy crepe recipe.
Serve it as a simple side dish or add a salad or soup and you've got a satisfying meatless main dish!
Ingredients:
1 pint of cherry tomatoes (10 oz), halved
1 cup of grated cheddar cheese, divided
⅓ cup of mayonnaise
1 tsp of dried basil
¼ tsp of salt
⅛ tsp of pepper

Preheat oven to 350 degrees. Mix cherry tomatoes, mayonnaise, ⅔ cup of cheese, basil, salt, and pepper in a medium mixing bowl.
Assemble crepes: Lay first crepe across serving platter. Spoon ½ cup of tomato-cheese mixture across the crepe. Roll up. Repeat with remaining crepes and lay side by side in an oiled baking dish. Sprinkle crepes with remaining cheddar cheese.
Yield: 4 servings (1 crepe roll each)
Return to Easy Vegetable Recipes. 

Return to Home. 

I love to Pin - Check out my Pinterest Boards