Best Christmas Dessert
Christmas Dessert Recipe for Leftover Eggnog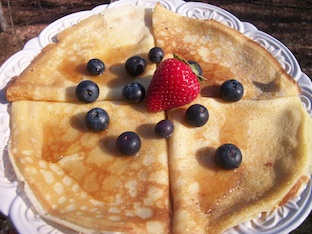 For the best Christmas dessert of all, try using leftover eggnog to make crepes! From cookies to pie to truffles, the recipes using eggnog are endless. But we think this one is the most creative use of all. And…the most delicious! 

Eggnog is a wonderful holiday beverage but did you know that it creates the creamiest crepe batter you'll ever make?
More importantly, with its notes of nutmeg and vanilla, eggnog delivers what we believe to be some of our most flavorful crepes.
Your eggnog may never make it to the punchbowl again!
Note: With this easy recipe, it's only necessary to use one egg, as there are plenty already in your eggnog.
Ingredients:
¾ cup of all-purpose flour
1 tablespoon melted butter
1¼ cups of eggnog
1 egg
¼ teaspoon of salt
Combine all ingredients into a blender and mix until well-blended. You may also combine them by hand. If combining by hand, mix the egg and eggnog separately and combine slowly with the dry ingredients. Mix in the melted butter last. Important: Refrigerate the batter for at least 30 minutes. This gives the batter the opportunity to rest and fully come together. 

Yield: 8 8-inch crepes
Next, follow with directions in How To Make Crepes. Once you've made your crepes, because they're naturally sweet, we recommend swirling just a couple of teaspoons of maple syrup per serving and garnishing with fresh fruit.
You can also fill them with lightly sweetened cream cheese or your favorite jam.
Recipes for Christmas Dinner. Check our more holiday recipes, including savory and dessert crepes. Enjoy!
Return to Christmas Dinner Recipes.
I love to Pin - Check out my Pinterest Boards