Best Baklava Recipe for Crepes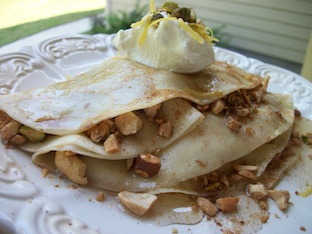 Seeking the best baklava recipe? Try this easy baklava recipe just for crepes. It's a no-bake dessert that you'll serve again and again. 

This baklava recipe was inspired by my desire for this famous Greek dessert but realizing that I had no phyllo dough on hand.
No problem. Crepes to the rescue!
This recipe was much less work than the traditional baklava recipe and best of all, I didn't have to use my oven on a very hot August day. 


Ingredients:
1 10-oz. bag of mixed nuts, chopped (We used Planter's Harvest Pistachio Blend)
¾ tsp of ground cinnamon
1 stick of melted butter
1 cup of white sugar
1 cup of water
½ cup of honey
1 tsp of vanilla extract
1 tsp of lemon zest
Greek yogurt, optional for garnish
Crumbled pistachios, optional for garnish
First, make dessert crepes and set aside. Cover to keep warm.
Next, combine nuts and cinnamon. Set aside. Stir together sugar and water in small saucepan and bring to a boil. Reduce to simmer and add honey, zest, and vanilla. Let simmer for 15 minutes. Add nuts and stir to combine.
Assemble crepes: Lay first crepe flat on the serving dish. Brush with melted butter and spread with 2 tablespoons of nut and syrup mixture. Fold in half once and again to form a triangle. Top with 1 tablespoon of yogurt and crumbled nuts to garnish. Repeat with remaining crepes. Serve immediately.
Yield: 8 servings 
Return to Easy Dessert Recipes.
I love to Pin - Check out my Pinterest Boards