Bearnaise Sauce Recipe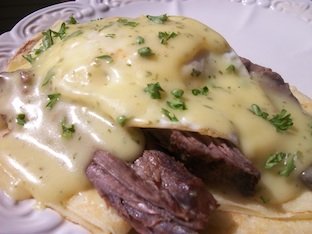 Our creamy bearnaise sauce recipe is an easy and delicious topping (not only) for your favorite main dish crepe recipes. Try with steak and eggs over crepes or any of our vegetable crepe recipes.
Bearnaise sauce is a cousin of hollandaise, a mild and buttery sauce used to flavor eggs, meats and vegetables.
Bearnaise is a bit fancier, however, because it's dressed up with the flavor of tarragon.
But don't be deceived by the sophisticated taste— this Bearnaise sauce recipe is unbelievably easy!
By the way, tarragon is a staple herb in my kitchen, because it has that wonderful strong flavor almost anyone likes. The most well know use of tarragon is as part of the famous Herbs de Provence mixture.
I always recommend to use it fresh. It's so easy to buy a plant and grow it either in your garden or on your kitchen window sill. But dried will also do.


Ingredients:
¼ white wine vinegar
1 tbsp of minced fresh tarragon leaves (or 1 tsp of dried)
1 tbsp of minced shallots or white onion
3 egg yolks
4 tbsp of butter
salt and pepper
Combine vinegar, tarragon and shallots in small saucepan over medium heat. Bring to a simmer and reduce to 1 tbsp of liquid.
Melt butter in microwave, and set aside. Place egg yolks in blender and mix on highest speed. Through the hole in the lid, with the blender still set on high, slowly stream in the vinegar-herb-shallot mixture and butter to the eggs.
The mixture will thicken into the consistency of cream. Season with salt and pepper. Serve immediately over crepes.
Yield: ¾ cup
Side Note: If you want to grow your own tarragon herbs, you can either do this from seeds or buy the plant. As I'm an impatient person and not the most versatile gardener, I always use plants. Much faster and easier to do. Just buy them, put them on the windowsill - done. The rewards will be huge. The flavor is a million times better than the bought dry herbs.
A nice variety is the Hardy Tarragon Plant Artemisia.

Return to More Sauce Recipes.

Return to Home.
I love to Pin - Check out my Pinterest Boards