Asian Bourbon Chicken Recipes 
for Crepes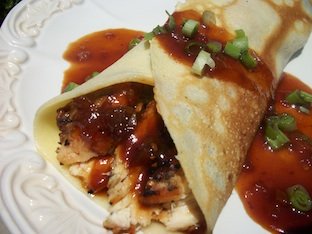 Enjoy Asian Bourbon Chicken Recipes? Try our recipe for bourbon chicken crepes, featuring grilled chicken coated in the world's best barbecue sauce.

This delicious chicken crepes recipe starts on the grill.
While your chicken is cooking, whip up this easy bourbon barbecue sauce.
Savory, sweet and slightly smoky, it's the perfect topping for grilled chicken in warm crepes! 


Ingredients:
6 boneless chicken breasts or 8 thighs
¼ cup of olive oil
½ tsp of salt
¼ tsp of pepper
1 tbsp of butter
1 shallot, chopped
1 clove of garlic, minced
1 tsp of fresh ginger, grated
¼ cup of chicken broth
¼ cup of apple juice
⅓ cup of brown sugar
⅓ cup of soy sauce
4 tbsp of ketchup
½ tsp of crushed red pepper flakes
¼ cup of chopped fresh green onions, for garnish
First, make crepes according to directions in How to Make Crepes. If you made your crepes ahead of time, wrap them in foil and reheat in a 325-degree oven for about 10 minutes or until warmed.
Mix together olive oil, salt and pepper and pour over chicken breasts. Let marinate for 30 minutes. Grill chicken over medium heat for 5-6 minutes on each side or until done. Cover and set aside.
Melt butter in a large skillet over medium heat. Add shallots and sauté until transparent and softened, about 2 minutes. Add garlic and cook for 1 more minute.
Deglaze pan with chicken broth. Stir together for 1 minute. Add soy sauce, apple juice, ginger, sugar, ketchup and pepper flakes. Stir to combine until sugar is melted. Reduce heat and simmer until sauce reduces by one-third. Remove from heat.
After chicken has rested and cooled slightly, slice each chicken breast into 5-6 thin strips. Add chicken to sauce and mix together until thoroughly coated and warmed through.
Assemble crepes: Lay first crepe across serving platter. Top with 4-5 slices of chicken breast. Ladle 2-3 tablespoons of sauce across chicken and roll up. Garnish with an additional tbsp of sauce and one tbsp of green onions. Repeat with remaining crepes and serve immediately.
Yield: 8 servings (1 crepe roll each)
If you enjoy Asian bourbon chicken recipes, you'll also enjoy Moo Shu Pork in Mandarin Crepes.
Return to Easy Grill Recipes. 

Return to Home. 

I love to Pin - Check out my Pinterest Boards